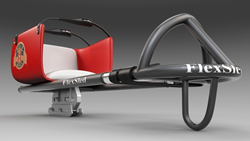 FlexSled - The Most Advanced Ice Hockey Sled Ever Imagined.
Randolph, NJ (PRWEB) June 10, 2014
The FlexSled is available in many colors and designs. Models include double amputee, single leg, non-amputee and athlete assist.
The FlexSled is created and manufactured in the United States and will be used in sled leagues throughout North America and beyond.
The FlexSled is designed with our patented flex technology that reduces impact force when two sleds collide or when a sled collides with the dasher boards. The most serious injuries can occur when one player checks another in a perpendicular manner, called a T-bone.
The FlexSled decreases a portion of this impact by absorbing the kinetic energy within the spring frame and then releases the energy with a slow recoil. This is similar to how a shock-absorber on your car works.
Sleds are customizable for all athletes. Flex technology can be modified based on the weight and size of the player. The Quebec model for example offers a two-tone color scheme on the bucket, padded leather seat and a heavy recoil spring for participants over 225 pounds.
FlexSled on Indiegogo -
https://www.indiegogo.com/projects/flexsled-the-most-advanced-ice-hockey-sled-ever-imagined
FlexSled Website -
http://www.flexsled.com
What is Sled Hockey? (From usahockey.com)
Sled (sledge as it's referred to outside the US) hockey was invented at a Stockholm, Sweden rehabilitation center in the early 1960s by a group of Swedes who, despite their physical disability, wanted to continue playing hockey.
Sled hockey follows most of the typical ice hockey rules with the exception some of the equipment. Players sit in specially designed sleds that sit on top of two hockey skate blades. There are two sticks for each player instead of one and the sticks have metal pics on the butt end for players to propel themselves. Goalies wear basically the same equipment but do make modifications to the glove. Metal picks are sewn into the backside to allow the goalie to maneuver.
Sled hockey provides opportunity for many types of disabilities and there are opportunities available in local areas for recreation/competition all the way to the National Sled Team that plays in the Paralympics. Sled hockey is rapidly growing in the US and players are "hooked" once they touch the ice the first time.