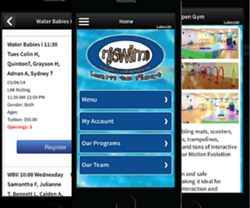 The app will...increase Njswim's on-the-go accessibility...Christine Burke, Director of Swim School Operations
Florham Park, Warren, Lakeside, Sparta - NJ (PRWEB) June 25, 2015
In an effort to best serve the communities where they operate, Njswim has created an app that is unique to their business and streamlines information in an optimized way to maximize customer satisfaction. Njswim's App is interactive, friendly on all devices and available to all users. The app, which can be found on iTunes App Store and Google Play, emphasizes Njswim's core values to generate an environment of mindfulness by showing an acute awareness for the needs of their clientele. The easy to use app will allow users to create an account, view available swimming lessons and class schedules, make class change requests and pay tuition online. "We wanted to make our classes more accessible to our clients so we incorporated elements into the app that will allow users to see a living or live schedule. Now, when an extra few minutes becomes available for someone they can click on the Njswim App and view their location's schedule for open swim sessions or fitness classes " Joe Oehme, President and Owner.
The new Njswim App will give users access to pertinent information while bringing them closer to the Njswim Community. Users will be invited to participate in discussions about programs, image capture opportunities and promotional giveaways. "The app will alleviate the uncertainty of scheduling and increase Njswim's on-the-go accessibility. It will also enable us to communicate with and alert Njswimmers about closings due to the weather or pool maintenance" Christine Burke, Director of Swim School Operations and Partner at Njswim Lakeside.
Njswim has been providing quality youth and adult swim and fitness instruction since they opened their doors in 2001. From that time, they have grown to four locations and now serve over 2,000 students on a weekly basis. Their mission to provide safe, effective and fun aquatic instruction to individuals of all ages and skill levels is an apparent part of their culture. Njswim boasts an experienced staff of certified swim and exercise instructors who have completed coursework in personal fitness training, psychology, early childhood education, and business management. They hire and train only the very best directors, teachers and lifeguards to effectuate their programs and empower their vision. Njswim's classes and services are unparalleled within their industry because they strive to inspire growth through their dynamic approach to education, business and community service. Njswim has received accolades from the National Drowning Prevention Alliance and Safer 3 Water Safety Foundation for their dedication to safety at each of their locations. They have also positioned themselves as a leading swim school within the United States Swim School Association.
For more information about Njswim visit njswim.com
To download the new Njswim App visit iTunes App Store or Google Play (Android Phones)