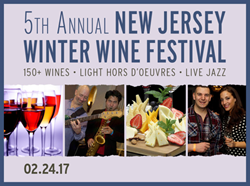 Nothing takes the chill out of winter like over 150 wines, tasty artisanal bites, entertaining live jazz, and a friendly, enthusiastic group of people.
New York, NY (PRWEB) January 19, 2017
New York Wine Events is pleased to announce that its 5th Annual New Jersey Winter Wine Festival featuring over 150 wines will return to the Hilton Short Hills on Friday, February 24, 2017. A general admission session will be held from 7:30 to 10pm while a special Premium Early Access ticket offers guests the option of walking the premier seasonal New Jersey wine tasting one hour earlier, starting at 6:30pm.
The New Jersey winter wine event will feature diverse wines from around the globe, spirits, and light accompaniments including hot pasta and risotto stations, crudité and dips, and cheese and cracker selections. An array of artisan food tables sampling salsas, olive oils, chocolates, jerky, charcuterie, and other specialty items will also be featured. Guests will be treated to live contemporary jazz performances throughout the evening by acclaimed saxophonist Art Sherrod Jr. and his band, plus get to take home their custom tasting glass after the event.
Wine tasting tables located throughout the Hilton's Grand Ballroom, Livingston Room, and Pavilion will pour an array of jammy, bold, and savory red wines, supple, crisp, and smooth white wines, plus some bright sparkling selections. Grape varietals from old, new and emerging wine regions from around the globe will be featured including wines from France, Italy, Spain, the United State, South America, Australia, New Zealand, South Africa, and more.
"Our winter fests at the Hilton Short Hills always attract an upbeat crowd of wine lovers," explains Sam Kimball, founder of New York Wine Events. "Nothing takes the chill out of winter like over 150 wines, tasty artisanal bites, entertaining live jazz, and a friendly, enthusiastic group of people."
Musical guest, saxman Art Sherrod, Jr. was influenced by the likes of Kirk Whalum, Gerald Albright, David Sanborn, Kim Waters and other contemporary jazz notables. He has performed, recorded, opened or co-headlined shows with notable artists including Chuck Loeb, Marion Meadows, Boney James, Noel Webb, Najee, Michael Henderson, Cuba Gooding & the Main Ingredient, Will Downing, the late Natalie Cole, and others. Art has also appeared at many jazz festivals including the Beantown Jazz Festival, the Volvo Jazz Festival, and was one of only five Americans to perform in the Brazilian-American Jazz Festival in Rio de Janeiro
New York Wine Events' popular New York and New Jersey wine festivals have drawn sold out crowds for more than a decade, and the 2017 New Jersey Winter Festival event is expected to do the same. Once again, participating artisanal food companies will feature items for guests to purchase and enjoy at home and lifestyle vendors offering cutlery, wine destination trips, wine-centric objects, and more will be showcased as well.
Participating sponsors and artisanal food companies to date include Boomerang Escapes, Buli Extra Virgin Olive Oil, Cactus Pete's Beef Jerky, Claremont Distillery, Cutco, Dr. Frank Vinifera Wine Cellars, Dove Chocolate Discoveries, Drunken Fruit, Evaton Inc., Goufrais, Kelly + Jones Fragrances, Lyft, Nicolosi Foods, Salsa Di Parma, Wine4Food, and The Wining Hour. More sponsors, wineries, and artisanal food companies will be added in the weeks ahead.
Tickets are on sale now, priced from $57 to $115, depending upon ticket level and time of purchase. Check the web site for details about limited time early purchase discounts, 15% savings for groups of 10 or more, and the Taste VIP membership program benefits including complimentary event tickets and discounts. Advance purchase for the February 24th wine event at the Hilton Short Hills is highly recommended.
For complete details and to purchase tickets to the New Jersey Winter Wine Festival, visit NewYorkWineEvents.com.
About New York Wine Events
New York Wine Events hosts elegant wine tasting events at first class venues in New York City and Northern New Jersey. The company's goal is to provide a wine tasting experience that allows guests to sample as many diverse wines as possible while enjoying great music and the company of other wine lovers. Visit NewYorkWineEvents.com.
###