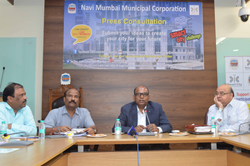 Navi Mumbai is competent and eligible in all respects to earn the title of a Smart City and we will leave no stone unturned to meet this challenge, said Shri Dinesh Waghmare, Municipal Commissioner, NMMC
Belapur, Navi Mumbai (PRWEB UK) 25 November 2015
To confirm its participation in the Smart City Challenge launched by Prime Minister Narendra Modi, the Navi Mumbai Municipal Corporation (NMMC) held a press consultation at the civic body headquarters in Belapur on Tuesday morning. Commissioner Dinesh Waghmare addressed the mediapersons on the occasion.
The consultation workshop was opened by Mr. Mohan Dagaonkar, the city engineer highlighting NMMC's achievements & the criteria to be met for the smart city challenge.
Under the aegis of India's smart city challenge, Navi Mumbai is all geared up to meet the benchmark guidelines for the challenge.
"A Smart City requires comprehensive development of physical, institutional, social and economic infrastructure. All are important in improving the quality of life and attracting people and investments to the city, setting in motion a virtuous cycle of growth and development. Navi Mumbai is competent and eligible in all respects to earn the title of a Smart City and we will leave no stone unturned to meet this challenge," Mr. Dinesh Waghmare, commissioner NMMC said.
For the last two months, the NMMC has launched a citizen connect programme, seeking suggestions and ideas from residents as well as professional bodies. "We wish to motivate the residents to get involved in the process of development of the city. After all, it is THEIR city. The views and concerns of the stakeholders about the city will have major contribution in formulating the vision for the city," he added.
He threw light on the achievements of NMMC:

High per capita income and cosmopolitan population
Higher Education Institutes - Engineering, Management and Medical
Major industrial area across Thane Belapur Road
Biggest trading centre APMC
Part of Proposed Knowledge Corridor
Two big infotech parks and presence of major players
Planned urban development
Picturesque coastal area and very green Parsik hill
Local dialling with the commercial capital
Account-based easy/low taxation instead of transaction/cash based octroi in other urban areas
The focus is on sustainable and inclusive development and the idea is to look at compact areas, create a replicable model which will act like a light house for other aspiring cities. Area- based development will transform existing areas (retrofit and redevelop), including slums, into better planned ones, thereby improving liveability of the whole city. New areas (greenfield) will be developed in order to accommodate the expanding population in urban areas. Application of smart solutions will enable cities to use technology, information and data to improve infrastructure and services. Comprehensive development in this way will improve quality of life, create employment and enhance incomes for all, especially the poor and the disadvantaged, leading to inclusive cities.
The media representatives present suggested that Barrier-free walkable footpaths, transport service empowerment, unconventional use of energy to ensure electricity savings, parking facilities should be the top priority for improving Navi Mumbai for its residents. Other highlighted suggestions were development of marinas & sea transportation, setting up of yoga & entertainment centres, lake beautification, rural & slum development measures, improved drainage & sewage facilities to prevent pollution. Larger thrust should be given to disaster shelter centres & regular monitoring of the scheme empowerment. The civic body should also strengthen the fire brigade system, set up larger number of English medium municipal schools. Provisions of better public toilet conveniences should be drawn in the smart city blueprint. While paving way for smarter e-governance, the NMMC commissioner, Mr. Dinesh Waghmare extended his gratitude to the attending media delegates for their valuable suggestions & for taking time to fill up the smart city questionnaire.
For more details, visit http://www.smartnavimumbai.com
For more information contact:-
rachana.crayons(at)gmail(dot)com
+91 9619776084