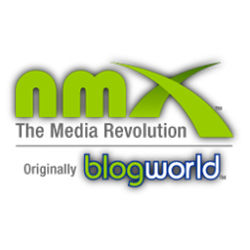 We are excited that Marshall will be teaching our community how to turn profit into passion
Las Vegas, NV (PRWEB) December 31, 2013
January 2014 marks the 8th Annual NMX New Media Expo, the largest of its kind, at the Rio Convention Center in Las Vegas, NV. For many, these platforms are exclusively a new wave of entertainment, while for others it has become a livelihood. Thus the New Media Expo will teach online entertainers and informants to better pique interest, persuade, and grow their online following.
That's where world renowned hypnotist and performer Marshall Sylver comes in as this year's Keynote Speaker and Platinum Sponsor. With 45 years of experience in entertaining, educating and empowering the masses, he is an expert at teaching how to monetize any business and influence the conscious and subconscious mind.
"We are excited that Marshall will be teaching our community how to turn profit into passion," notes Deborah Cole (@coachdeb), NMX's Chief Marketing Officer, who emphasizes the importance of sales with her own coaching clients and published books.
Sylver has shared the stage with the likes of Donald Trump, Bill Clinton, Gerald Ford, Russel Simmons, Richard Branson, making him the most televised hypnotist in the world. He has captured the spotlight with multiple appearances on The Late Show, David Letterman, Howard Stern and many others.
Rick Calvert, cofounder of NMX states, "Our attendees are ecstatic to not only take away influential tactics from Marshall's presentation, but also to attend his show the night before where he will hypnotize volunteers from the NMX crowd." The show will include influencing the subconscious to dance like a puppet, speak "Martianese", and even breath fire.
Having personally sold over $200,000,000 in information products, Sylver is the perfect fit to teach Podcasters, Bloggers, and Web TV Experts how to leverage their online persuasion. Sylver himself is a podcaster, with his show, "Get Rich Radio", poised to be one of the fastest growing programs in history due to his unique blend of content and commerce.
Marshall Sylver says this show in particular will be a turning point for many; a historic event that will have people talking for decades to come, "It's all about New Media. I've helped people from multiple industries learn how to monetize their creativity and I'm excited to be a part of this massive movement of New Media being the next major business breakthrough."
NMX New Media Expo will take place January 4-6th, 2014, with Sylver taking the stage on January 4th for his infamous hypnotist show, and on the 5th at the expo. NMX will additionally host the Podcast Awards Show on January 5th, and IAWTV (International Academy of Web Television) Awards Show where Hollywood celebrities will share the Red Carpet with Web TV Stars.
For more information on NMX, visit http://nmxlive.com and to find out more about our keynote speaker, visit:
http://www.sylver.com
http://www.getrichradio.com
http://www.prosperityalliance.com
Joanna Kinsman
PR Director of NMX Events
PR (at) NMXevents (dot) com
https://www.facebook.com/NewMediaExpo