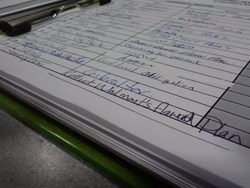 "We must stand up for rule of law in our community today"
-Grant Stern
Miami, Florida (PRWEB) August 27, 2013
NoWalmartinMidtown.com, a coalition of residents, business people, and artists in the Midtown district of Miami, Florida is filing an appeal of Wal-mart's Class II Special Permit issued by the City of Miami's Planning Director on August 12th, 2013 (See attached Exhibit A: Class II Special Permit No. 12-0054 Development Order). Miami's Planning and Zoning Appeals Board (PZAB) will hear the Appeal on a date to be determined later.
Miami Commissioner Johnny Winton commissioned the Midtown Miami plan as a special district a decade ago. Today, Midtown contains 3-4 high-rise condos and over 600,000 sq. ft. of restaurant, community retail and big box stores in a mixed income, pedestrian oriented neighborhood.
In 2011, Walmart announced plans to buy Midtown Miami's final retail parcel from Ohio based DDR Corp to build a 200,000+ sq ft Super Center store. Local residents concerned that a massive big box store might not fit into such a small parcel. NoWalmartinMidtown.com launched a change.org petition which has collected over 3,400 signatures shortly thereafter in 2012.
According to this Miami Herald report published on July 19th of last year, the Miami Planning Director's request for sole authority over Wal-mart's design was rejected 9-0 by Miami's PZAB. Miami's Urban Design Review Board (UDRB), a Board of Professional Architects, rejected by 6-0 vote Wal-mart's January 2013 plans.
NoWalmartinMidtown.com contends that Miami's Planning Director overstepped his bounds in approving a minimally revised copy of plans from March 2013.
Longtime Miami resident Grant Stern is the founder and spokesperson of NoWalmartinMidtown.com and a licensed Mortgage Broker. Paul Savage, Esq., of The Law Offices of Paul C. Savage, PA has been retained to represent the NoWalmartinMidtown.com group's appeal.
"Wal-Mart's Class II approval is replete with variances," according to Paul Savage, Esq., "and variances cannot be administratively approved, but must go to a public hearing."
"Wal-mart's plan would spoil a $170 Million community investment in Midtown Miami," saysNoWalmartinMidtown.com spokesperson, Grant Stern, "Wal-mart has made an end run around important local regulations and obtained a flawed approval for their Super Center."
"We must stand up for rule of law in our community today or we'll wind up with more architectural disasters like this proposed Wal-mart littering our landscape," states Stern.
For questions and further information, please visit http://www.nowalmartinmidtown.com or contact Grant Stern directly at 786-220-0117 or grantstern(at)gmail(dot)com or @grantstern on twitter. Regarding legal matters, contact Paul Savage, Esq. at paul(at)savagelegal(dot)com or his office at 305-444-7188.