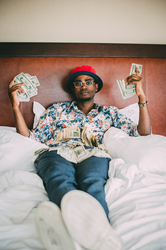 the video already had over 140,000 views and 220 shares on Facebook
Atlanta, GA (PRWEB) July 20, 2015
No WorldStarHipHop or VladTV features for C.KHiD to signal his return. The South Carolina born rapper launched 5 videos on YouTube yesterday. Far from the 2010 days of web fame which landed 'Si' work with Wiz Khalifa and Young Money artists, these new videos are teasers to the coming new songs for his "ABKW2P" album.
video link: "Used To Give A..." - https://goo.gl/4aIyGX
"I revisited past [Black Box Dreams] albums to give some [favorite] songs cool visuals. My new music..... [It is on] new #Levels and newer sounds," wrote C.KHiD in a comment to YouTube fans.
The five new Hip Hop videos are for C's priorly published songs titled "Paradise," "Spaceship," "Get Grown," "Used 2 Give A...", and "Forward."
"Get Grown" has over one thousand YouTube views. Fans of #CKHiDHair episodes have been enchanted by the song through the years of watching his Afro haircare videos. On facebook thew song new to some in 2015, has over 30,000 views.
The new video for "New Rap Songs" [ep] single "Paradise" is currently mega-popular on social media as well. Never on WorldStarHipHop either, the video has over 140,000 views and 220 shares on Facebook today.
C.KHiD's releases are a quick 'taste' of how he's elevated his music and artistry. His long-awaited 'ABKW2P' album is expected next. Watch the new videos on YouTube today. They may appear on World Star HipHop and other major rap blog sites soon.
For Hip Hop fans that play basketball (#Hooplife), see this special video C.KHiD dedicated to ballers, "Forward" link: https://goo.gl/dzAVIi .
Download C.KHiD's new mixtape "Si" free on Soundcloud.