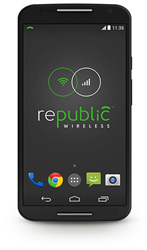 The new wireless players are winning over subscribers with better values and all-around customer commitment.
Raleigh, North Carolina (PRWEB) December 01, 2014
No contract smartphone service provider Republic Wireless today announced it will add Motorola's new flagship smartphone, the second generation Moto X, to its lineup of phones starting December 10th. Continuing the mission of providing the best value to its members, the phone will retail for $399—a significant discount from other no contract offers. Republic first made a name for itself in the wireless industry by utilizing both WiFi and cellular to significantly reduce the cost of monthly smartphone service and return those savings to its members.
"With this launch, Republic's growing device portfolio expands to include the absolute latest in high end Android smartphones," said David Morken, co-founder and CEO of Republic Wireless. "The success of premium phones on Republic is a direct reflection of what the recent Consumer Reports rankings illustrate: the new wireless players are winning over subscribers with better values and all-around customer commitment. For us, it has never been a story about cheaper options—it's about better ones."
Simple is the new smart
The new Moto X smartphone, running Android™ 4.4.4 KitKat®, will be available on the Republic Wireless network starting December 10th for $399. Customers can also purchase and customize the device via Motorola's Moto Maker website the same day. As always, Republic members can pick from one of several simple pricing plans that best fit their lifestyle:

Unlimited talk, text, and data, on WiFi only - $5/month
Unlimited talk and text on WiFi and cellular, and unlimited data on WiFi - $10/month
Unlimited talk, text and data on WiFi, plus 3G cellular - $25/month
Unlimited talk, text and data on WiFi, plus 4G LTE cellular - $40/month
The best Android phone on the market
"Motorola's done everything right with the new Moto X – It is exquisitely engineered. With a quad-core processor, this thing flies. I've been using the device as my primary phone, and I love it. With its bigger, higher-resolution display, faster processor, premium metal frame, and enhanced software experiences, it easily takes its rightful place next to the Apple and Samsung phones of the world – with one very important distinction – when compared to those phones, it's half the price but all the joy," Morken adds.
Uniquely optimized for superior voice, text and data while on WiFi and cellular, the new Moto X is packed with thoughtful features and customization options such as:
Moto Voice – Make calls, check the weather, get directions, or do just about anything without touching any physical buttons. Customize the voice prompt and just talk.
Moto Display – Check the time or see notifications pulse quietly on the screen without unnecessarily waking up the phone and burning through the battery.
Moto Actions – Respond to your Moto X with simple gestures—without having to touch the phone. Simply wave your hand above the phone to silence calls or alarms. Or launch the camera with just two flicks of your wrist.
Camera – Take pictures with a 13 megapixel rear camera by tapping anywhere on the screen or holding a finger on the display to take rapid-fire multiple shots. Swipe from left to right to access camera settings, including HDR, flash, tap to focus, slow motion (for video), panorama, Geo-Tag and shutter tone. A 2 megapixel front facing camera guarantees great selfies and clear video calls.
Moto Assist – Moto X can tell if you're in a moving vehicle and automatically read incoming text messages aloud or tell who's calling. It can even automatically respond with a text reply that lets people know you're behind the wheel. Moto X learns your preferences so it'll work exactly the way you want it to.
Customization via Moto Maker – With Moto Maker, Motorola's online design studio, Republic customers can select custom styling and feature options including metal accents, colorful hues, real woods and genuine leather backs, and a customizable laser-etched signature to make the new Moto X unique.
Full specifications here.
About Republic Wireless
Recognized in the 2014 PCMag.com Readers Choice Awards as having better overall customer satisfaction than the largest four national carriers and named 'Disruptor of the Year' by Entrepreneur Magazine, Republic Wireless helps consumers save money on smartphone service. A division of Bandwidth, Republic is headquartered in Raleigh, North Carolina. Republic's Hybrid Calling uses WiFi in the home, office or anywhere else as the primary network for calls, texts and data. When outside of WiFi coverage, the smartphone works just like a typical cellphone on the cellular networks of national CDMA carriers. Visit http://www.republicwireless.com for more information.