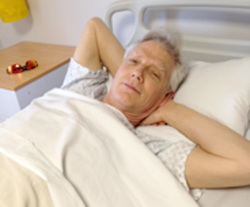 The NobleStitch did exactly what I hoped it would. I had my energy back as soon as the anesthesia wore off- John Wyall
Fountain Valley, CA (PRWEB) May 16, 2014
Nobles Medical Technologies II (NMT2) today announced that its first American patient has had a successful PFO closure. John Wyall from Orem, Utah has suffered from stroke, aura, and severe chronic fatigue that has worsened in the last few years to the point that he has been bedfast for 14 to 18 hours a day for the last year and a half and unable to do much more than sit on the couch when he was able to get out of bed. After trying to get answers from numerous doctors over the years, he finally found a specialist who discovered through tests that he had a PFO or "Patent Foramen Ovale," a condition in which the tunnel between the left and right side of the heart did not close shortly after birth. This is a condition that exists in more than 27% of the population, but not everyone's defect is severe.
It was clear to John that he needed to have his PFO closed, but he was told that he would need to have at least 2 strokes before he would qualify for treatment. He had already had one stroke and numerous mini-strokes, and waiting to have another one was unacceptable to John. He began his research. The only approved procedure for PFO closure in the US was open-heart surgery. This is a very traumatic procedure that requires general anesthesia and having the heart stopped while on a heart-lung machine. This was not the option John was looking for. John had found in Europe that there was a percutaneous solution that did not require open-heart surgery. However, it required leaving a couple of large metal discs in the heart. There were also some very dangerous potential risks associated with these discs that John did not want to take. He discovered a new technology called NobleStitch, which was developed by well-known medical device inventor Prof. Dr. Anthony Nobles.
The NobleStitch enters percutaneously through the vein in the leg and travels into the heart under fluoroscopy (X-ray) and places a suture in the PFO to close the hole. This is the same suture that is used in the open-heart procedure, but without the surgery.
John contacted Nobles Medical to see if he could get the procedure done in Utah, but it was not yet available. After speaking with Prof. Dr. Nobles, CEO of NMT2, John planned a trip to California to be part of a 30-patient study of the NobleStitch EL. However, before the study was to begin, he felt his symptoms worsening and determined to get the NobleStitch procedure done immediately.
John then reached out to Dr. Michael Mullen, Consultant Cardiologist at University College Hospital London, UK and a member of the NMT2 Clinical Advisory Board who has performed more of the NobleStitch procedures than anyone in the world, and asked if he could perform the procedure on John in London. Prof. Dr. Nobles flew to London to meet John and his wife and to be on hand with Dr. Mullen. Dr. Mullen successfully placed the suture in John's heart and achieved a perfect closure using the NobleStitch. The entire procedure took less than 20 minutes, and even with what is considered to be a large PFO, a single suture did the job.
John has returned home to Utah and has already seen his O2 saturation return to normal. His fatigue is gone and he has not experienced any complications or stroke since the procedure. He said:
"The NobleStitch did exactly what I hoped it would. I had my energy back as soon as the anesthesia wore off. I was able to get up early in the morning, take a two-mile walk in the mountains with my wife, and return to my other normal activities. It's hard to believe that until just a few days ago I'd spent 14 to 18 hours in bed every day for over 18 months. I can't imagine even being able to do that again. Best of all, I have peace of mind knowing that I don't have to worry about a failure-prone metal device sitting inside my heart or have to take anti-platelet medication for six months or more."
Prof. Dr. Anthony Nobles commented, "John is the best example of why we are in this business: to truly change the quality of life of our patients. We look forward to starting to treat these patients in the US in the next couple months, beginning with the study to be done by Dr. Brett Wertman here in southern California."
About Patent Foramen Ovale (PFO)
A PFO is a tunnel that exists between the left and right atrium of the heart. The tunnel, which is part of the normal fetal anatomy, should close shortly after birth. In 27% of the population the tunnel never closes. This tunnel can then allow clots and other chemicals to pass from the right to the left side of the heart, freely bypassing the filter of the lungs. These clots and chemicals can cause strokes and other conditions such as severe migraines.
About the NobleStitch EL System
Nobles Medical Technologies II's, NobleStitch EL is a catheter-based system that allows a physician to place a suture in the PFO tunnel in the heart through a percutaneous puncture in the leg, in many cases under a local anesthetic in a catheter lab rather than in an operating room. This eliminates the need for open-heart surgery or placement of a large metallic implant in the heart. The NobleStitch is not a "device" or mechanical implant; it only places a simple polypropylene suture in the heart. By closing the hole or PFO, the therapy will reduce or eliminate the shunting from the right to the left side of the heart, allowing the lungs to filter the clots and other chemicals and preventing them from going straight to the brain, potentially halting strokes and severe migraines and enabling patients to live a higher-quality life.
About Nobles Medical Technologies II
Nobles Medical Technologies II is a global structural heart company devoted to improving life through the development of its products and technologies. Nobles Medical Technologies II is focused on suture-based solutions for the septum.
Visit Nobles Medical Technologies II http://www.noblesmedicaltechnology.com