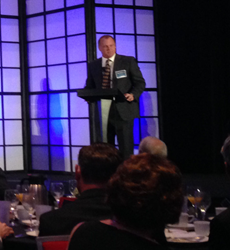 Atlanta, GA (PRWEB) August 26, 2014
Noble Systems Corporation, a global provider of contact center technology solutions, is pleased to announce that James (Jim) K Noble, CEO & President, has been honored as one of Georgia's "Most Admired CEOs". The program, sponsored by the Atlanta Business Chronicle, recognizes outstanding leadership and achievement among top chief executive officers in Georgia.
Over 1,100 nominations for the Most Admired CEO program were received. In its inaugural year, the program recognized leaders from a number of industries, including commercial and residential real estate; manufacturing, technology, banking and finance, health care, professional services, hospitality, education, and non-profit groups. Finalists were selected based on a number of criteria, including leadership, values, vision, company financial performance, work environment, community contribution, and more. The awards were presented at a breakfast ceremony on August 22.
Jim Noble has spent his entire career in the call center industry, originally with divisions of Time Life and The Hearst Corporation, where he held a variety of operational and management positions. After opening and managing his own call centers and identifying a need for call processing automation, Mr. Noble worked to develop the Noble Solution. Mr. Noble founded Noble Systems Corporation in 1989 to sell and support the Noble platform. Recently named as the #1 market leader by Frost & Sullivan, Noble Systems is celebrating 25 years of providing innovative contact center solutions. Mr. Noble is an active member of several industry associations and works with advocacy groups to promote the industry.
About Noble Systems
Noble Systems Corporation is a global leader in the customer communications industry, providing innovative solutions for Unified Communications, Business Process Management and Analytics. Tens of thousands of agents at 4,000+ client installations worldwide use Noble platforms to manage millions of customer contacts each day. Noble offers a unified suite of multi-channel inbound, outbound and blended contact processing, strategy planning, and resource management tools for companies of all sizes. Our premise, cloud and innovative premise/cloud hybrid platforms include ACD, predictive dialing, blended processing, recording and monitoring, IVR, messaging, interaction analytics and workforce management. For more information, contact Lee Allum at 1.888.8NOBLE8 or visit http://www.noblesystems.com.