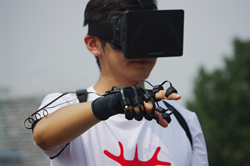 It is our pledgers on Kickstarters who are the most amazing. They send us ideas, promote the project and explain to us one hundred and one ways in which they will utilize Perception Neuron and that is the best motivation!"
Beijing, China (PRWEB) August 20, 2014
Following a successful launch at SIGGRAPH and the subsequent incredible reception from the professional community, Noitom is proud to announce that they sailed past their midway Kickstarter funding milestone within eight days.
"We have been overwhelmed by the support from everyone," explains Dr. Tristan Dai, the developer of Perception Neuron and co-founder of Noitom. "Our peers have been so supportive, but it is our pledgers on Kickstarters who are the most amazing. They send us ideas, promote the project and explain to us one hundred and one ways in which they will utilize Perception Neuron and that is the best motivation!"
Perception Neuron is an inertial sensor based motion capture system with WIFI transmission. Its uniqueness stems from the fact that it is modular allowing the tiny sensors to be relocated where they are needed. The Neuron sensors are also the smallest in the industry. Truly ground-breaking, though, is the pricing with complete packages ranging from $200 for 10-sensors to $550 for 30-sensors allowing you to map a complete body with detailed hand movements.
"What is incredible is what we are hearing from students, freelancers and small studios around the world who never dreamed they could afford this type of technology and who are telling us that Perception Neuron will open new doors for them both creatively and financially," says Dr. Haoyang Liu, CEO of Noitom. "We are also hearing from researchers and scientists who are getting this as a tool to measure body movements for biomechanics in rehabilitation and sports. There are also a lot of artists who want to use Perception Neuron for live performances. I really cannot wait to see the all these projects come together."
Perception Neuron is being funded on Kickstarter where Dr. Tristan Dai, the developer, is personally responding to comments and questions from backers. He has also been posting software beta versions and file samples on the update section as well as on the Noitom Facebook page. The Kickstarter campaign concludes on September 12.
About Noitom Ltd.
Founded in 2011, Noitom Ltd. works with a team of dedicated engineers who develop world-class motion capture technology for consumer and industrial markets through the integration of MEMS sensors, pattern recognition, human kinetics and wireless transmission. Noitom is an international leader in innovative technology for use in animation, film, medical applications, robotics and gaming. Noitom is headquartered in Beijing with affiliate offices in Shenzhen. For further information about Noitom and its services, please visit, http://www.noitom.com. For general inquiries, please email, info(at)noitom(dot)com.