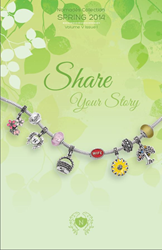 'Beautiful catalog! I'm very excited. Made a mini wish list while previewing it,' states Sheena Girty
Fort Collins, Colorado (PRWEB) May 13, 2014
Nomades™, a military spouse owned direct sales company, announces the publication of their new Spring 2014 catalog on Thursday, May 15, 2014. Featuring over 30 new charms and spacers, this 52 page, full-color glossy catalog is a comprehensive book of all the Nomades™ collection charms and much more!
Charms are categorized by all five military service branches, Life's Moments, and Spacers. Additionally, customers can discover their Home Grown section which includes customized signs, coasters and key chains.
"Nomades™ is very excited to share our new line of products contained in the Spring 2014 Catalog. What sets this company apart from other direct sales jewelry companies is all our custom charms are .925 sterling silver and are handmade in the U.S.A. ," stated Heather Osborne, Co-Founder.
Osborne continued, "New charms have been added to all our charm categories; Air Force, Army, Navy, Coast Guard, Marine Corps, Guard, Life's Moments, Military Service Charms, and our Love Notes Collection." After a preview of the spring catalog independent Nomades™ Consultant, Sheena Girty remarks, "Beautiful catalog! I'm very excited. Made a mini wish list while previewing it."
In addition to the new charms, a new line of spring colored spacers have been added that will brighten up any bracelet.
Starting Thursday, May 15, 2014, these new products can be seen and purchased on their website at http://www.nomadescollection.com or through any independent Nomades™ consultant. Individuals that need to locate a consultant in their area can contact Nomades™ via email.
Nomades™ - Military and Patriotic charms that Share Your Story.
About Nomades:
Nomades™ offers opportunities for individuals who are interested in becoming consultants to join their direct sales team. Persons interested in joining the Nomades™ family can contact Christy DeWitt.