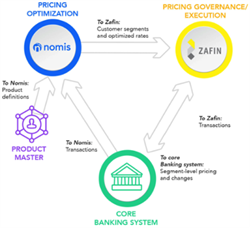 As one of our customers put it, 'this may be the first rising rate environment where banks actually go out of business.' Together with Zafin, we are going to make sure our customers are prepared to take share and grow profit.
San Francisco, California and Vancouver, Canada (PRWEB) October 28, 2015
Nomis Solutions and Zafin announced today the formation of a strategic global alliance to deliver an integrated and seamless deposit pricing experience to retail banks.
As interest rates rise, many retail banks are not prepared to respond quickly, as back office systems were not designed to create, deploy, and refine sophisticated deposit pricing quickly. Additionally, banks typically have not been able to devote the resources required to truly understand the price sensitivity of their customers and execute appropriate pricing strategies.
"As one of our customers put it, 'this may be the first rising rate environment where banks actually go out of business,'" said Frank Rohde, CEO of Nomis Solutions. "Together with Zafin, we are going to make sure our customers are prepared to take share and grow profit."
"This partnership is all about improving the overall health of a bank's retail deposits business proactively," said Al Karim Somji, Founder and CEO of Zafin. "Nomis provides the diagnosis and prescription, while Zafin delivers the treatment."
The partnership brings together Nomis' customer analytics and price optimization capabilities with Zafin's pricing governance and execution capabilities into one end-to-end solution, enabling banks to:
1. Understand, measure and predict customer behavior, price sensitivity, balance flows and lifetime value using big data pricing science, helping banks to evolve from coarse tiers and geographic segmentation to leverage granular relationship and behavioral drivers;
2. Dynamically segment customers and optimize & tailor product and pricing to forecasts to achieve deposit growth, profitability and liquidity targets under varying interest rate, competitor and macro-economic scenarios;
3. Execute an automated and holistic deposit pricing management strategy, with tailored segment and channel-specific offerings, and create incentives to encourage the desired front-line behavior.
Key benefits:

Better understand the underlying drivers of depositors' behavior – an important factor in a rising interest rate environment.
Mitigate customer flight risk without increasing interest expenses, with potential net interest income gains of as much as 10 to 20 bps.
Create a competitive advantage in a commoditized deposit landscape with differentiated pricing and rapid response.
Streamline processes and improve agility, with the ability to identify and respond quickly to changing customer and market dynamics.
Create a strategic lever for managing liquidity levels and product mixes.
Mitigate conduct and compliance risk with audit trails and workflows for complete transparency.
Innovate while minimizing risk – no changes to the bank's core banking system required.
The first implementation of this integrated offering is currently underway with a common client, a top-10 U.S. bank, with an expected go-live date in Q2 2016.
"We are delighted to be partnering with Zafin to offer an industry first for retail banking – end-to-end next-gen price optimization, creation, and deployment," said Rohde of Nomis. "Zafin and Nomis share the same ambition: To bring modern pricing to banking. Together, we make this transition easy and deliver the most comprehensive deposit pricing solution available today."
"The partnership between Nomis and Zafin combines two advanced solutions into one compelling value proposition," said Zafin's Somji. "With Nomis advanced price creation and Zafin's pricing governance capabilities for retail banking, financial institutions have a winning platform to execute value-added rate management strategies – striking an optimal balance of profitability, liquidity, deposit stability, and customer experience."
Related resources:
To request an interview with a spokesperson or for more information, please contact:
Ken Pulverman
Chief Marketing Officer, Nomis
1-650-588-9800
Melissa Pelto
Communications Director, Zafin
1-855-699-2346
melissa.pelto(at)zafin(dot)com
About Nomis
Nomis is a fast-growth fintech company that combines cutting-edge Silicon Valley approaches to big data, advanced modeling, and deep analytics to help large and medium-sized retail banks better understand their customers. We help these banks deliver win-win products and pricing in an environment that is increasingly competitive and highly disruptive as interest rate increases loom. With experience in over 75 implementations, Nomis optimizes $1 trillion in banking transactions annually and returns $300,000,000 to its customers every year.
For more information, please visit http://www.nomissolutions.com.
About Zafin
Zafin is an award-winning provider of relationship banking technology solutions to financial services providers worldwide. Our technology platform, miRevenue, was built from the ground up for banking, enabling customer-centric product innovations that drive revenue, transparency and operational efficiency across the customer lifecycle.
Design tailored banking products and services to suit customers' needs;
Price products according to the breadth, depth and profitability of the customer relationship;
Offer products in the form of an accurate, profitable proposal; and
Bill for all products and services rendered with a single, consolidated invoice that communicates the value of the customer relationship.
miRevenue's flexible architecture is uniquely designed to address the requirements of financial services providers of all sizes and across lines of business. Our global client base includes many of the world's largest and most respected tier-1 banks, but we also empower regional banks, community banks and other niche financial services providers with product innovations that cater to their specific needs. miRevenue routinely generates 100% ROI in under 12 months.
As a private company with public company governance, Zafin operates out of multiple global locations, including North America, Europe, Middle East, Africa and Asia-Pacific.
For more information, please visit http://www.zafin.com.