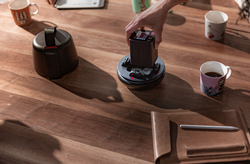 With the Nomono Sound Capsule and Nomono Cloud, we're simplifying recording without sacrificing high quality audio.
TRONDHEIM, Norway (PRWEB) February 23, 2023
Nomono, the pioneering developer of audio recording and collaboration tools designed to help podcasters and journalists tell immersive audio stories, today announced that its groundbreaking Nomono platform, comprised of the Nomono Sound Capsule and Nomono Cloud, has been recognized as a 2023 SXSW Innovation Awards finalist in the audio category.
The unique, long-running South by Southwest® competition recognizes the most exciting technology developments in the connected world. The five finalists in the audio category will exhibit their technological advancements at the seventh annual Innovation Awards Finalist Showcase during SXSW. The winner will be announced at the SXSW Innovation Awards Ceremony on Monday, March 13th at the Austin Convention Center.
"It's an honor to be named a finalist by one of the most prestigious award programs for technological advancements, achievements and discoveries shaping the world," said Jonas Rinde, CEO of Nomono. "With the Nomono Sound Capsule and Nomono Cloud, we're simplifying recording without sacrificing high quality audio. By allowing creators to focus on the content itself instead of tedious technology adjustments, we're ushering in the next era of podcasting – one that's incredibly immersive and compelling."
The Nomono Sound Capsule is a cloud-connected, self-contained recording kit for capturing audio recordings in the field and designed specifically for professional podcasters and broadcast journalists.
It includes a Wi-Fi enabled recorder that combines four ultra-compact wireless lavalier mics with a 360-degree spatial audio microphone array and weighs less than 4 pounds.
The Nomono Sound Capsule connects seamlessly to the Nomono Cloud, an online audio collaboration tool where content creators can backup their recordings, collaborate with their production team, and apply AI-powered dialogue enhancement processing to ensure their audio sounds the best it can before starting the editorial process.
With unparalleled portability and ease-of-use, Nomono's combined solutions are revolutionizing how professional-quality audio is created. Unlike current podcasting workflows that depend on separate field recorders, microphones, mixers, and accessories, Nomono offers a portable, all-in-one field recording solution built specifically for podcasters and journalists that automatically uploads recordings to an intuitive cloud-based audio collaboration and preparation tool.
"Increasingly in the future, spatial audio podcasts will unlock entirely new experiences for podcast producers and listeners, ones that are more enriching, engaging, and captivating than ever before," concluded Rinde. "Nomono's solutions are designed to help creators capitalize on the explosive growth of immersive audio while becoming innovators in their respective markets. It's an incredibly exciting time to a part of the podcasting industry, and we look forward to continuing to support creators through our ongoing technological innovations that enhance their workflows."
Nomono will be exhibiting at the SXSW Innovation Awards Finalist Showcase on Saturday, March 11th at the JW Marriott Austin in Griffin Hall. For more information on Nomono, visit here. Click here for hi-res photography.
About Nomono
Nomono's mission is to simplify podcasting and redefine the listening experience by enabling anyone to record immersive audio with uncompromising quality and ease. Founded in 2019 as a spinoff from SINTEF Digital, Nomono's goal is to provide storytellers and content creators with audio workflows that are smart, simple and deliver excellent sound, while making it effortless to incorporate object-based spatial audio into their craft. Nomono is headquartered in Trondheim, Norway, with satellite offices in Oslo and New York. For more information, visit https://nomono.co.