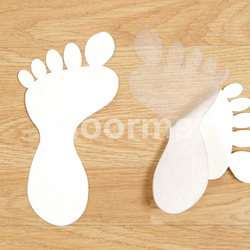 Aqua-Safe is comfortable on the feet while providing slip-resistance around hot tubs, pools and boats
Cleveland, Ohio (PRWEB) May 28, 2015
New Aqua-Safe anti slip tape is a standard non-abrasive tape designed for areas such as swimming pools, baths and showers, boats, commercial kitchens or labs. The slip-resistant surface is gentle to bare skin unlike most industrial anti-slip tapes that use scratchy grit.
Aqua-Safe is waterproof, and its plastic construction ensures dimensional stability. The embossed surface creates a texture to prevent slips. Manipulation during the production process gives it a rubber feel, providing sure footing without irritating bare skin. The non-abrasive surface also makes it much easier to clean, making it suitable for a kitchen or laboratory.
According to company president Dan Ruminski, "Aqua-Safe is comfortable on the feet while providing slip-resistance around hot tubs, pools and boats."
Martinson-Nicholls can slit the new tape to any width from 1/2" up to 47", as well as provide custom die-cut pieces and shapes, working to a customer's designs or drawings.
Whether wet or dry, Aqua-Safe has a CoF (Coefficient of Friction) that meets all safety standards. It comes in black, gray or transparent. Standard 60-foot long rolls are offered in 1 inch through 12-inch width.
About Martinson-Nicholls
Martinson-Nicholls, has established itself as a leader in custom anti-slip tape, floor mats, and eco-friendly products for more than 60 years.
Martinson-Nicholls provides the customer with the exact size matting needed--small, large, standard, nonstandard, special shapes and logos. Custom installations are also a specialty of the company.
Anti-slip safety tapes and treads are available in various sizes and textures from hand cut or die cut pieces to full rolls and special shapes. For more information, please visit http://www.floormat.com.