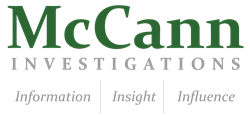 Non-compete clauses are serious legal documents, and it is important that all parties involved abide by their terms.
Dallas, TX (PRWEB) September 07, 2013
McCann Investigations, a Dallas-area firm specializing in private investigations and digital security, recently announced that it provides a range of non-compete enforcement services for its area clients.
Non-compete enforcement involves ensuring that all parties involved in a non-compete clause meet the specified terms of the contract. One common example of a breach of this clause is when a party unlawfully enters into competition with the other party by using trade secrets or other important information. This could then have a negative financial impact on the victim party.
"Non-compete clauses are serious legal documents, and it is important that all parties involved abide by their terms," said Daniel Weiss, Managing Partner at McCann Investigations. "Our investigators work closely with their clients to prevent potential damage done by breaches of contract or to repair any damage already done."
Non-compete clauses generally contain agreements that specify the length of time that can pass before a terminated or resigned employee can begin working for a competing company or start their own competing company. This statute of limitations is imposed to prevent that employee from gaining an unfair market advantage by using confidential information gained in his or her time as an employee with the company they had the contract with.
To uncover evidence of a breach of a non-compete clause, McCann's Dallas investigators perform traditional surveillance tactics and analyze all forms of digital communication. Using tried and true digital forensics methods, they discover evidence that proves the guilt of the perpetrator.
"We are committed to protecting the trade secrets and confidential information of all of our clients," said Weiss. "We encourage companies to seek the assistance of our skilled investigators to properly uncover evidence of contract breaches."
For more information about the services provided by McCann Investigations in the Dallas area, visit the company's website at http://www.mccanninvestigations.com and follow the company on Twitter at @mccangi.
About McCann Investigations
McCann Investigations is a Texas-based private investigations practice focused on comprehensive investigations incorporating digital forensics, surveillance, undercover work and background checks for clients in various case types. Service areas include intellectual property theft, non-compete enforcement, fraud, embezzlement and family law. McCann Investigators are experts in the latest computer forensics tools and are licensed with the state of Texas. McCann examiners have provided expert testimony and reporting in hundreds of cases across the state.