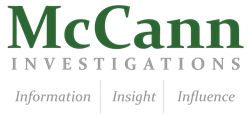 One of the best ways to obtain legal protection of your business information and brand identity to through non compete clauses
San Antonio, TX (PRWEB) November 14, 2013
McCann Investigations, a private investigations and digital security firm located in various cities in Texas, recently announced that it is bringing its non-compete clause enforcement services to the San Antonio market.
Non-compete clauses are legal agreements established between parties that prevent unlawful entering into competition with each other by using the other party's information, trade secrets, etc. The investigators at McCann analyze evidence to determine whether or not a person is guilty of breaking the terms of the agreed upon contract.
"One of the best ways to obtain legal protection of your business's information and brand identity is through non-compete clauses," said Daniel Weiss, Managing Partner at McCann Investigations. "Our investigators take great care to analyze all evidence in the case and prevent any potential damage done by contract breaches."
Most non-compete clauses have a statute of limitations that must expire before a resigned or terminated employee may enter into competition with his or her former business. This ensures that ex-employees cannot use the knowledge they gained at their former place of employment to gain an unfair market advantage. When organizations or businesses believe that there has been a contract breach, McCann's San Antonio investigators combine traditional surveillance tactics and high-tech digital forensic analysis to uncover any existing evidence of guilt.
"Non-compete clauses must be carefully guarded and abided by," said Weiss. "We make it our mission to do everything possible to ensure that all of your trade secrets are kept private. Additionally, we encourage any company in need of legal protection through non-compete contracts to come to us and learn more about how we can assist them."
For more information about the services provided by McCann Investigations in the San Antonio area, visit the company's website at http://www.mccanninvestigations.com and follow the company on Twitter at @mccangi.
About McCann Investigations
McCann Investigations is a Texas-based private investigations practice focused on comprehensive investigations incorporating digital forensics, surveillance, undercover work and background checks for clients in various case types. Service areas include intellectual property theft, non-compete enforcement, fraud, embezzlement and family law. McCann Investigators are experts in the latest computer forensics tools and are licensed with the state of Texas. McCann examiners have provided expert testimony and reporting in hundreds of cases across the state.