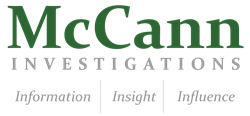 A non-compete clause is a legally binding document that must adhered to by all parties.
Houston, TX (PRWEB) August 15, 2013
McCann Investigations, a firm based near Houston that engages in digital security and private investigations, recently announced its range of non-compete enforcement services.
When one party fails to abide by the terms of a non-compete clause, they unlawfully enter competition with the other party (or parties) involved in the clause. This could have a significant negative impact on the business performed by the victim party.
"A non-compete clause is a legally binding document that must be adhered to by all parties," said Daniel Weiss, Managing Partner at McCann Investigations. "Our investigators are extremely knowledgeable in the field of non-compete enforcement, and ensure that any damage done by a party failing to follow the agreement is undone, with that party being suitably punished.
A non-compete clause refers to a type of contract provision in which a recently terminated or resigned employee cannot begin working for a competitor or start a competing business within a certain amount of time. This prevents that employee from gaining a competitive advantage by exploiting confidential information about his or her previous employer, or using that previous employer's trade secrets or operations to gain a market edge.
McCann Investigators perform surveillance tactics, analyze forms of communication and engage in digital forensics to uncover evidence of a party breaking the terms of a non-compete clause. This evidence is then, in many cases, used in court to prove the guilt of the perpetrator.
"Our top priority is to keep the sensitive information of our clients secure at all times," said Weiss. "By working to enforce non-compete clauses, we are doing just that."
For more information about the services provided by McCann Investigations in the Houston area, visit the company's website at http://www.mccanninvestigations.com and follow the company on Twitter at @mccangi.
About McCann Investigations
McCann Investigations is a Texas-based private investigations practice focused on comprehensive investigations incorporating digital forensics, surveillance, undercover work and background checks for clients in various case types. Service areas include intellectual property theft, non-compete enforcement, fraud, embezzlement and family law. McCann Investigators are experts in the latest computer forensics tools and are licensed with the state of Texas. McCann examiners have provided expert testimony and reporting in hundreds of cases across the state.