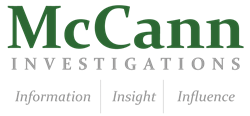 Many companies try to place unreasonable demands in a non-compete agreement.
Houston, TX (PRWEB) February 01, 2014
McCann Investigations, a Texas-based computer forensics firm released a paper titled Top 10 Best Practices for Non-Compete Enforcement. Potential damage from the theft of proprietary information is immeasurable. This paper examines the top 10 best practices for non-compete enforcement. Having strong non-compete agreements in place at the beginning will help companies to lower the costs of litigation should the need for enforcement of the agreement become necessary.
"Many companies try to place unreasonable demands in a non-compete agreement," said Daniel Weiss, Partner at McCann Investigations. "They are often hoping that the courts will take certain key items in the non-compete agreement, but what often happens is the entire case is thrown out based on unwarranted conditions set out in the agreement," continued Weiss.
While most companies have effective policies when it comes to hiring practices, most lack effective policies when dealing with the separation of employees. Replacing and preservation of computer hard drives or mobile devices of employees who access sensitive information is a step that is very important and almost never utilized. Employers almost always reissue laptops and cell phones to new employees within a short time. This is a major problem because the violation of non-compete agreements often doesn't become apparent to employers for several months or more after an employee's departure. Essentially, by the time an employer realizes they need to preserve digital information, the information has already been overwritten or deleted.
About McCann Investigations:
McCann Investigations is a Texas-based private investigations practice focused on comprehensive investigations incorporating digital forensics, surveillance, undercover work and backgrounds for clients in various case types. Case types include intellectual property theft, non compete enforcement, fraud, embezzlement and family law. McCann Investigators are experts in the latest computer forensics tools and are licensed with the state of Texas. McCann computer forensics examiners have provided expert testimony and reporting in hundreds of cases across the state.
Through digital investigations, McCann also delivers digital debugging and data breach and incident response services. In cases where there is suspected external or internal hacking with the installation of malware of spyware or when data and privacy loss has occurred due to network breach, McCann investigations computer forensics and IT security experts use cutting-edge tools to document, evaluate and respond to the incident. McCann works with clients to analyze their IT networks and put protocols in place to secure the network.
McCann Investigations utilizes multiple tools in their comprehensive investigations including digital investigations, digital debugging, corporate investigations, litigation support, IT security audit and oversight, complex family, civil and criminal.
http://www.mccanninvestigations.com
Facebook: http://www.facebook.com/McCannInvestigations