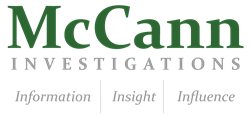 Austin, TX (PRWEB) May 02, 2014
McCann Investigations, a digital security and private investigations firm operating in Austin and throughout Texas, announced that its Austin branch has access to a range of high-tech tools t use during non-compete violation investigations.
Non-compete clauses are important items for businesses to include in contracts when they want to ensure that employees do not enter into competition with the company for a certain amount of time after leaving or getting fired. When a person violates the terms of this agreement, the company can take legal action. McCann's investigators use these technologies in their investigations to help provide proof of the violation.
"When people commit violations of non-compete clauses, it can have a huge impact on their former company," said Daniel Weiss, Managing Partner at McCann Investigations. "By using the tools we have available to us, we give our clients a major advantage in these investigations so that they can quickly enforce the terms of their agreement."
Most evidence in non-compete cases is found in digital locations. McCann's Austin investigators have been thoroughly trained in numerous methods of digital evidence extraction. The most common sources of this evidence include text messages, emails, notes, photos, social media and more.
McCann's investigators in Austin also use some of the latest covert surveillance and remote viewing technologies available to keep constant tabs on the daily activities of the target, hoping to catch them in the act.
"Every one of our investigators has completely devoted to providing the highest level of customer service possible," said Weiss. "These technologies help us to give our clients a standard of service they can't find anywhere else."
For more information about the services provided by McCann Investigations in the Austin area, visit the company's website at http://www.mccanninvestigations.com and follow the company on Twitter at @mccangi.
About McCann Investigations
McCann Investigations is a Texas-based private investigations practice focused on comprehensive investigations incorporating digital forensics, surveillance, undercover work and background checks for clients in various case types. Service areas include intellectual property theft, non-compete enforcement, fraud, embezzlement and family law. McCann Investigators are experts in the latest computer forensics tools and are licensed with the state of Texas. McCann examiners have provided expert testimony and reporting in hundreds of cases across the state.