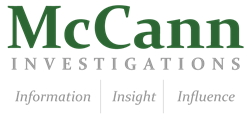 (PRWEB) May 25, 2014
McCann Investigations, a Texas-based firm trusted for its high-quality private investigations and digital security services, announced that its Austin branch uses extensive background investigation tactics as the first step in its non-compete clause enforcement cases.
Many businesses use non-compete clauses to ensure that employees who are fired or otherwise leave the company cannot enter into competition with their former employer for a certain period of time. When former employees breach this agreement, it can have significant negative impacts on the former employer. McCann's Austin investigators begin their research into these breaches by conducting a complete review of the investigation target's background.
"We encourage all businesses to be proactive in the ways that they enforce their non-compete clauses," said Daniel Weiss, Managing Partner at McCann Investigations. "The process that we have established at McCann Investigations, including these background checks, has given us some excellent results in non-compete enforcement in Austin."
After discussing the details of the contract and the breach with the client, McCann's Austin investigators begin by analyzing the criminal record, employment history, assets, financial history and more of the target to find helpful information for the investigation.
Once the investigators have compiled a thorough profile of their target, they then move on to other portions of the investigation, including surveillance and digital forensics analysis. McCann's investigators often find evidence in sources such as email, documents, texts and more.
"All of our investigators are completely dedicated to providing the best possible client service in non-compete cases," said Weiss. "Trust in our experience and our record for success to help your business move forward from the damaging effects of this crime."
For more information about the services provided by McCann Investigations in the Austin area, visit the company's website at http://www.mccanninvestigations.com and follow the company on Twitter at @mccangi.
About McCann Investigations
McCann Investigations is a Texas-based private investigations practice focused on comprehensive investigations incorporating digital forensics, surveillance, undercover work and background checks for clients in various case types. Service areas include intellectual property theft, non-compete enforcement, fraud, embezzlement and family law. McCann Investigators are experts in the latest computer forensics tools and are licensed with the state of Texas. McCann examiners have provided expert testimony and reporting in hundreds of cases across the state.