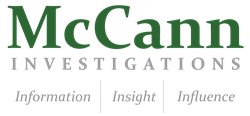 At McCann Investigations, we are deeply about helping our clients uphold their non-compete clauses, because we understand the impact that breaking such a clause can have.
Houston, TX (PRWEB) February 27, 2014
McCann Investigations, a firm operating in Texas that conducts a variety of digital security and private investigations services, announced that it uses the most up-to-date technology available to give its investigators an edge in non-compete enforcement investigations.
Non-compete clauses are often included in business contracts. Their purpose is to protect businesses in the event of the termination of an employee, as they state that any employee who is fired or leaves the company for any reason cannot enter into competition with the former employer for a certain amount of time. When these clauses are violated, the services of a private investigator are often needed to find evidence of the crime.
"At McCann Investigators, we care deeply about helping our clients uphold their non-compete clauses, because we understand the impact that breaking such a clause can have," said Daniel Weiss, Managing Partner at McCann Investigations. "The variety of technology that we have at our disposal truly gives our investigators an edge in these cases, which makes us Houston's go-to source for non-compete investigations."
These technologies mentioned by Weiss often make the difference in an investigation. Today, a lot of evidence is left behind in digital trails, which means investigators must be skilled with forensic analysis devices for computers and mobile devices to uncover that evidence. McCann's Houston investigators also have access to covert surveillance and remote viewing tools to catch perpetrators in the act.
In addition to the use of these technologies, McCann investigators perform thorough corporate intelligence and background checks of investigation targets to find any information that could be of assistance in the investigation.
"We use a multifaceted approach in our investigations, which has helped us deliver great results to our non-compete clients in Houston time and time again," said Weiss. "We are happy to be able to provide these services and protect our clients in the area."
For more information about the services provided by McCann Investigations in the Houston area, visit the company's website at http://www.mccanninvestigations.com and follow the company on Twitter at @mccangi.
About McCann Investigations
McCann Investigations is a Texas-based private investigations practice focused on comprehensive investigations incorporating digital forensics, surveillance, undercover work and background checks for clients in various case types. Service areas include intellectual property theft, non-compete enforcement, fraud, embezzlement and family law. McCann Investigators are experts in the latest computer forensics tools and are licensed with the state of Texas. McCann examiners have provided expert testimony and reporting in hundreds of cases across the state.