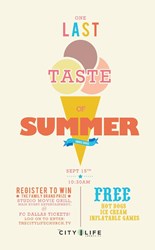 Frisco, TX (PRWEB) September 11, 2013
Celebrate One Last Taste of the Summer with City Life Church on Sunday, Sept. 15 as they begin a City Life Series: A Balanced Home. The event will include complimentary food, games and giveaways.
One Last Taste of the Summer will begin at 10:30 a.m. on Sept. 15 at City Life Church, 2500 Old Orchard Drive, Frisco, Texas. There will be inflatable games for youngsters to enjoy as well as free hot dogs, drinks and ice cream. The family grand prize includes Studio Movie Grill tickets, Main Event Entertainment and FC Dallas tickets. Register to win by logging onto http://thecitylifechurch.tv and filling out the required fields.
At City Life Church, guests can expect to experience a friendly environment, a dynamic, cutting-edge worship experience and a relevant message that will provide practical steps each week for people to follow that can lead to change. For children in fifth grade or younger, they have the chance to experience KidLife, a full worship service designed just for kids.
For more information, call 469-544-4797 or thecitylifechurch.tv.
About the company:
Whether a longtime devout church service attendee or away from the faith for a while, individuals will find that City Life is a different kind of community church with a whole new idea of togetherness and worship. They are a non-denominational church serving the spiritual needs of Frisco, Plano, and all of North Dallas. For individuals seeking a growing, supportive community that truly cares, City Life Church is the answer. City Life views church as a group of people, not a building or place. City Life offers a dynamic worship service that focuses on strengthening your relationship with God. In April 2012, a small group of people began to dream about a new, non-denominational church, fueled by a desire to love the people of their city. It was from this dream that The City Life Church emerged, committed to helping people take the next step on their spiritual journey. Please visit the City Life Church website for more information, http://www.citylifechurch-dfw.com.