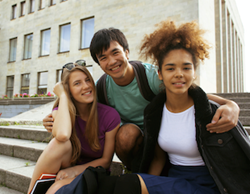 The best hedge against economic uncertainty for youth is to choose a career path that motivates them to create, persist, and learn.
Portland, Oregon (PRWEB) March 03, 2015
Career guidance leader Career Key, http://www.careerkey.org, just released "The Free Agent," its monthly newsletter for school counselors and career development professionals. February's issue describes how behavioral, education and career skills are often overlooked in college and career readiness programs because of their singular focus on academics and testing. Counselors fill in the gaps by helping students develop these vital noncognitive skills that lead to college and career success.
So-called "noncognitive skills" are broadly defined as "patterns of thought, feelings, and behaviors" of individuals that continue to develop throughout their lives. Examples include skills in critical thinking, problem solving, social interaction, persistence, creativity, self-regulation, and career skills (knowing oneself, learning how to find and understand career information, and decision making). Research shows these skills are critical to college and workplace success. See:
"Broadening the Definition of College and Career Readiness: A Holistic Approach." (ACT® Research Report, 2015)
"The Need to Address Noncognitive Skills in the Education Policy Agenda," Economic Policy Institute (December 2014)
Despite their importance, noncognitive skills are almost completely overlooked in college and employment preparation. Academic challenges and standardized testing consume school systems. Well-intentioned and anxious parents focus on the "end game" of a single, financially secure and guaranteed successful college/career/major choice - a chimera. No such safe choice exists.
But counselors and career development professionals (in schools and in the private sector) do not overlook the importance of noncognitive skills. Deanna Carlisle, CDF, Founder of Youth Career Compass in the Pacific Northwest and a Career Key customer, incorporates these skills into her approach. Her three keys to building a career mindset are the "3C's of Curiosity, Clarity and Confidence." The program is practical, youth engaging, and reflects a holistic approach to career planning for teens.
The best hedge against uncertainty for youth facing a changing economy and labor market is a holistic approach. Teens should develop strong noncognitive skills and choose a career path that motivates them to create, persist, and learn. Counselors and parents who support this approach are setting students and their children up for lifelong success.
About The Career Key
The Career Key website is advertising and registration free, designed to help people make good career and education decisions based on the best science and practices of career counseling. It was developed by nationally recognized counseling psychologist Dr. Lawrence K. Jones, NCC, a Professor Emeritus at N.C. State University. In addition to being earth-friendly, Career Key donates 10% of website sales to charity.