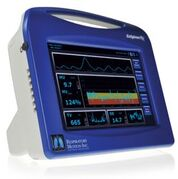 "Repeated studies show the ExSpiron Patient Monitor is more effective than current technologies for identifying subtle changes in breathing that rapidly indicate life-threatening respiratory depression."
Waltham, MA (PRWEB) February 22, 2016
Respiratory Motion's ExSpiron 1Xi™ was launched by IMI Co., Ltd. at the Japanese Society of Intensive Care Medicine at the February 11th – 14th conference. The Japanese Society of Intensive Care Medicine (JSICM) was founded in 1974. Physicians joining the JSICM have specialized in intensive care with past experiences as anesthesiologists, emergency physicians, cardiologists, and pediatricians.
The ExSpiron patient monitor provides non-invasive monitoring for Minute Ventilation, Tidal Volume and Respiratory Rate. Knowing a patient's minute ventilation, how much air they breath in one-minute, is essential to knowing their respiratory status. ExSpiron is the ONLY respiratory device to provide this comprehensive information for non-intubated patients enabling a more complete and quantifiable patient assessment throughout the care continuum.
ExSpiron technology was first introduced to the Japanese market in 2015 in lectures given at several conferences by prominent physicians.
Clinical research presented at JSICM overwhelmingly confirms that current respiratory monitoring using Respiratory Rate or EtCO2 is insufficient with potentially over 80% of Respiratory Depression events going undetected. Highlights of some of these six significant presentation include:

"Risk Stratification Using a Respiratory Volume Monitor"
Late detection of respiratory depression (RD) in non-intubated patients compromises patients
safety. Respiratory Volume Monitoring (RVM) can detect patients at risk for opioid-induced RD and/or experiencing post-operative apnea.
"Ventilation is a Better Assessment of Respiratory Status than EtCO2"
EtCO2 measurements in non-intubated patients are unreliable so clinicians resort to using the respiratory rate (RR) measurements from the capnograph. Normal EtCO2 coincided with adequate RR just 24.9% of the time. Data demonstrated that relying on capnography to capture the respiratory status in non-intubated patients is lacking.
"Respiratory Rate is a Poor Assessment of Respiratory Status During and After Upper Endoscopy Procedures"
Despite the use of capnography monitoring, incidence of low MV during routine endoscopic procedures
was significant. Over 80% of all low MV episodes would not have triggered a low RR alarm. Conventional RR monitoring alone would fail to capture more than 80% of all low MV episodes. • "Assessing Ventilation in Patients Receiving Opioids"
Monitoring respiratory rates as low as 6 breadths/min would still miss nearly 90% of Low MV episodes.

"Identifying Patients at Risk for Respiratory Depression"
RVM can identify and quantify respiratory compromise in the PACU, ICU, or GHF.
"Respiratory Volume Monitoring Reduces False Alarms"
Respiratory depression poses a significant threat to the safety of patients in Japan, where aging population and economic pressures have pushed hospital systems to embrace novel technology to eliminate preventable adverse events and contain cost. As in the United States, health care providers in Japan seek ways to identify patient risk before it becomes life-threatening. Repeated studies show the ExSpiron Patient Monitor is more effective than other technologies for identifying subtle changes in respiration that foreshadow life-threatening respiratory depression.
Dr. Jenny E. Freeman, Respiratory Motion's president and chief executive officer, states "Repeated studies show the ExSpiron Patient Monitor is more effective than current technologies for identifying subtle changes in breathing that rapidly indicate life-threatening respiratory depression. We are excited to work with IMI Co. to offer this safety benefit to the people of Japan."
According to Hideki Yokoyama, chief executive officer of IMI Co., "Over the last year we have worked to satisfy the requirements necessary to secure regulatory approval, and are excited to provide this critical technology to the clinical community in their efforts to protect patients at-risk for respiratory depression. Our customers will be the first in Japan to experience the future of respiratory monitoring."
"The footprint and scope of IMI, our distribution partner in Japan, provides us the platform to rapidly reach physicians and patients", says Diana Gelston, Chief Commercial Officer for Respiratory Motion. "Our strategy is to collaborate with the best companies with exceptional relationships, talent, and knowledge in their respective markets, and IMI certainly achieves that for us. IMI is among the first in a series of international partnerships to launch the ExSpiron, Non-Invasive Minute Ventilation monitor. We see many of the same issues in patient care abroad as we do in the U.S., which the ExSpiron uniquely solves. We look forward to helping clinicians save lives through quicker respiratory intervention in many markets." says Gelston.
The U.S. Department of Health Services' Agency for Healthcare Research and Quality finds the annual costs of respiratory insufficiency, arrest and failure was $7.8 billion in 2007. This makes respiratory issues the third most rapidly increasing hospital inpatient cost in the United States. Further, Healthgrades 2014 Patient Safety Report lists post operative respiratory failure is the largest single source of avoidable in-patient days.
Respiratory minute ventilation is used to monitor the amount of air actually breathed by a patient in one-minute, which is fundamental to knowing a patient's respiratory status. In 2012, Respiratory Motion won U.S. Food and Drug Administration clearance for its revolutionary ExSpiron monitoring system.
About IMI
The mission of IMI Co., Ltd. is to deliver the world's most advanced medical devices to improve Japan's medical technology base. For medical institutions, IMI has delivered a reliable platform for delivering device sales and services that provide patients with safe, efficient, and valuable acute-care services at reasonable costs. For business partners, the company strives to maximize long-term mutual benefit by developing markets for partners' products through aggressive sales activities and appropriate pricing while increasing customer satisfaction by delivering high value-added support services to ensure their proper use. To learn more, visit http://www.imimed.co.jp/en/
About Respiratory Motion, Inc.
Respiratory Motion, Inc. is a medical device company based in Waltham, MA, that develops innovative technology to monitor respiration and help clinicians and hospitals improve patient safety and outcomes. The company's monitoring systems can identify patients who are at risk for life-threatening respiratory depression. This allows physicians to prevent the dangerous condition before it harms a patient.
To learn more, visit http://www.respiratorymotion.com