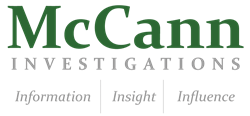 Nonprofit organizations require just as much vigilance in preventing fraud as a for profit company.
Houston, TX (PRWEB) March 14, 2014
McCann Investigations, a Texas-based private investigations firm specializing in digital forensics is pleased to announce that it has published a white paper titled Best Practices to Mitigate Nonprofit Fraud. Like any other organization, for profit or not, nonprofit organizations are prime targets for unscrupulous volunteers and employees to take advantage of and steal from. In some ways, nonprofit organizations are easier targets than their for-profit counterparts. Many nonprofit organizations rely on volunteers, who often are tasked with multiple positions, to ensure the donations and earnings are spent in-line with the organization's goals. This situation sets the stage for serious risk of embezzlement, as well as potential tax liability problems.
"Nonprofit organizations require just as much vigilance in preventing fraud as a for profit company." Said Daniel Weiss, Licensed Private Investigator and Managing Partner for McCann Investigations. "There is a lot of opportunity for embezzlement with all of the cash flowing in and out of the organization." Continued Weiss.
In the end, there is no way to 100% guarantee that someone won't take or use a nonprofit organization's money for their own personal gain. An organization can only minimize the risk, and then take steps to ensure quick discovery, thorough investigation, and successful civil & criminal prosecutions.
For more information about the services provided by McCann Investigations in the Houston area, visit the company's website at http://www.mccanninvestigations.com and follow the company on Twitter at @mccangi.
About McCann Investigations
McCann Investigations is a Texas-based private investigations practice focused on comprehensive investigations incorporating digital forensics, surveillance, undercover work and background checks for clients in various case types. Service areas include intellectual property theft, non-compete enforcement, fraud, embezzlement and family law. McCann Investigators are experts in the latest computer forensics tools and are licensed with the state of Texas. McCann examiners have provided expert testimony and reporting in hundreds of cases across the state.