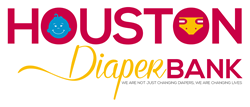 We hope to connect our supporters with what matters the most, the future generation. We are not just changing diapers, we are changing lives
Houston, TX (PRWEB) November 12, 2014
Houston Diaper Bank, a new non-profit organization launched to provide quality diapers to low-income families throughout the Houston area, seeks to create a great difference in the community by promoting and offering diapers to infants and newborns or to children from 0 to 2 ½ years old.
An average toddler can use up to eight diapers per day and an infant can use up to twelve. However, in a low-income household, a baby may be using one diaper throughout the day or even longer, which increases the chance of the development of health issues. This can also put the life of the child at risk. One in three American mothers struggles to buy diapers for her baby and nearly one-third of working families in Houston are low-income and may not have the ability to cover their basic necessities.
Houston Diaper Bank exists to address this concern and to make sure that no child in Houston will suffer from any disease related to the overuse of diapers. The organization also believes that by providing diaper assistance for those families in need, it can create great changes in the lives of others and promote goodwill in the community. This non-profit organization continuously strives to promote the real importance of diaper awareness for every family within the greater Houston area.
Houston Diaper Bank has been conducting different programs to obtain the funds necessary to support those low-income families in the area. In fact, the organization recently hosted a shoe drive in an effort to raise more money for diapers. The company also acknowledged 'Wood Group Mustang' for the great support they showed for the fulfillment of the organization's purpose.
The primary purpose of the Houston Diaper Bank is to raise awareness of the diaper issue that many families have been experiencing and to engage all people in the organization's mission, which will have a great impact in the community. Houston Diaper Bank is always in need of other community organizations, businesses, schools and individuals to support the organization in its endeavors. The organization also calls upon the community to engage in this essential effort to reach its diaper goal.
Houston Diaper Bank is a non-profit organization committed to providing families throughout the Houston area with necessary assistance to strengthen a sense of hope in their everyday lives. Houston Diaper Bank distributes diapers to local social organizations to help improve the quality of life of every low-income family in need of its services.
Those who want to help the organization in its endeavor can reach out through the website: http://www.houstondiaperbank.org/.