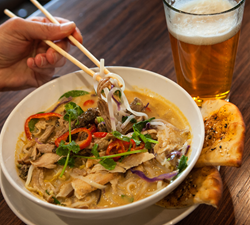 The wide variety of options offered by Schlafly is great to pair with the fresh options offered by Noodles & Company."
St. Louis, MO (PRWEB) February 28, 2015
Starting March 1, Noodles and Company will begin exclusively serving Schlafly beer at its seven St. Louis and Columbia restaurants. Schlafly's Hefeweizen, Kölsch and Pale Ale, and two seasonal selections will be available year-round. Seasonal selections will include Pumpkin and Christmas Ale, Helles-Style Summer Lager, Oktoberfest, Winter ESB and Raspberry Hefeweizen.
"We are excited to begin this partnership with a strong, local company," says Noodles & Company Franchise Partner Mike Hamra, President and CEO of Hamra Enterprises. "The wide variety of options offered by Schlafly is great to pair with the fresh options offered by Noodles & Company."
Noodles & Company and Schlafly leadership have worked together to create a pairing guide for restaurant guests.
"We wanted to make it easy for our guests to find the perfect Schlafly beer to pair with their Noodles & Company entrée," says Hamra.
For example, the light bodied Kölsch pairs well with lighter dishes such as the Pesto Cavatappi and Grilled Chicken Caesar, while the Pale Ales pair well with sweet and spicy dishes such as the Bankok Curry and Pad Thai.
Each month, Noodles & Company will feature a pairing special for $10. In March, guests can enjoy a bowl of Penne Rosa, which is penne pasta with a spicy tomato cream sauce, mushrooms, tomato, spinach, wine and Parmesan or feta cheese, with their choice of protein, such as grilled chicken breast or sautéed shrimp and a Schlafly Pale Ale for $10.
Schlafly is Missouri's largest locally owned, independent brewery, and Schlafly Pale Ale is the best selling craft beer in the St. Louis area.
St. Louis and Columbia Area Noodles & Company Restaurants:
18 S. County Center Way, St. Louis, MO 63129
10925 Olive Blvd., Creve Coeur, MO 63141
13307 Manchester Rd., Des Peres, MO 63131
64 Hampton Village Plaza, St. Louis, MO 63109
1784 Clarkson Rd., Chesterfield, MO 63017
6310 Delmar Blvd, University City, MO 63130
406 South 9th Street, Columbia, MO 65201
###
About Noodles & Company
Founded in 1995, Noodles & Company is a fast-casual restaurant chain that serves classic noodle and pasta dishes from around the world. Known as Your World Kitchen, Noodles & Company's globally inspired menu consists of more than 25 fresh, customizable noodle bowls, salads, soups and sandwiches that are prepared quickly using quality ingredients. From healthy to indulgent, spicy to comforting, the menu provides favorites for everyone from kids to adults. Popular dishes include the Med Salad with grilled chicken, spicy Indonesian Peanut Sauté and creamy Wisconsin Mac & Cheese. For more information about Noodles & Company visit http://www.noodles.com or on Facebook and Twitter.
About Hamra Enterprises
Hamra Enterprises owns six Noodles and Company restaurants in St. Louis and one in Columbia, MO. It is a dynamic organization owned and founded in 1975 by the Hamra family. The company's headquarters is in Springfield, Missouri and includes six companies with over 3,500 employees in four states; Missouri, Illinois, Massachusetts and Texas. Hamra Enterprises is committed to providing the highest quality products and services within the hospitality industry, creating exceptional experiences for people and communities by engaging each of its restaurant neighborhoods through community service, fundraising, and other philanthropic partnerships such as Boston Children's Hospital, Make-A-Wish of Illinois, Children's Miracle Network Hospitals, The Dave Thomas Foundation for Adoption and St. Jude's Children's Research Hospital.