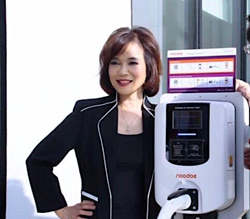 Our signature Noodoe EV Apps Library gives owners access to a broad range of powerful, flexible solutions that redefines charger management.
HOUSTON (PRWEB) May 02, 2022
Noodoe EV, a global leader in EV charging technology, introduces its signature Apps Library, unleashing limitless marketing opportunities for business owners. The announcement was made by Noodoe CEO Jennifer Chang. The Noodoe EV Apps Library allows any station owner the ability to turn their EV charging stations into powerful tools to drive new business and customer loyalty.
"Noodoe's advanced EV OS demonstrates that all EV charging technology is not created equal. Our signature Noodoe EV Apps Library gives owners access to a broad range of powerful, flexible solutions that redefines charger management. Charging stations are becoming an excellent draw for thousands of businesses around the world."
Noodoe's management platform, Noodoe EV OS, integrates seamlessly with the Noodoe Apps Library. Thus far, Noodoe's most popular app is the Discount Code app. Enabling the Discount Code is easy. Simply activate the app and navigate to the Discount Code screen in the Noodoe EV OS console. Input the desired discount (either in percentage or dollars), assign it a name and description, and then set the validity period. The app even allows owners choose how many times a single user can get the discount. Letting customers see your offer is as simple as sending an email, posting it on social media, or displaying it in your business or on a receipt. Recently, one Noodoe owner attracted customers by offering 50 percent off on Earth Day and $2 off during their weekly farmer's market.
Noodoe's new Apps Library features an ever-growing number of applications, touching on numerous aspects of charger ownership, management and operation.
About Noodoe Inc.
To accelerate the world's transition to electric vehicles, Noodoe provides the mission-critical network operating system, Noodoe EV OS, that runs the EV charging networks for their operators.
Noodoe EV OS is one of the most advanced cloud-based operating platforms today; it is a charging network's "central brain" that runs all the charging stations across multiple locations and automates the entire operation of the EV charging network.
What makes Noodoe EV OS different is the core technology that empowers "extreme automation," which enables the operators to achieve the lowest possible operating cost. Controlling and running all EV charging stations, Noodoe EV OS fully automates everything – 24/7 charging service delivery, automatic peak-hour price adjustment, automatic transaction billing, automatic payment processing, automatic bank transfer, automatic infrastructure diagnostics, and intelligent energy management. It's so automated that the network operators practically can generate revenue automatically and continuously.
Noodoe provides products and services that are used in 110 countries worldwide.