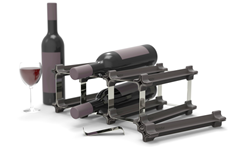 "Our aim is for people to make an aesthetic feature of their wine, wherever they want with a funky and affordable design."
Los Angeles, CA (PRWEB) November 20, 2014
Australia-based designer Craig Nottage, well regarded in the design of high end game room products, is behind the sleek, modern, custom, and affordable wine rack exclusively available for order on the crowdfunding platform Indiegogo. Orders can be made now directly on the Indiegogo site here.
Nook wine racks are turning heads with a completely fresh approach to wine storage needs by filling anyone's dead space into wine space. With Nook, wine collector's can easily disassemble and re-assemble to accommodate almost any nook in the kitchen, cellar, or living room area. It's like Lego for your wine storage.
Nottage states, "Our aim is for people to make an aesthetic feature of their wine, wherever they want, with a funky and affordable design." And it doesn't stop there. If the customer's wine collection grows, it is simple to purchase more Nooks at any given time. The wine racks are easy to assemble one Nook at a time with no additional joiners or special tools.
As a crowdfunding campaign, Nook is letting the world know that anybody can now have a stunning wine display without the hassle and expense of custom, costly-made wine racks or settling for an antique design.
Not only is Nook customizable, it is also an affordable luxury. According to Brand Manager Paul Smith, "We wanted to offer a new and cost effective approach to home DIY wine storage with a completely new and stylish look. Wine racks have lacked any new or recent innovation, it was time to rethink the wine rack!"
Nook has limited early bird special prices beginning at just $25 for those who contribute towards the crowdfunding campaign on the Indiegogo page.
###
About Nook:
Craig Nottage and Paul Smith founded Nook in 2014 with the intention of turning dead space into wine space. By using the highest standard of components, Nook is a customizable and affordable wine rack system. Its classy, sleek, and modern. Nook is now available for pre-order only on Indiegogo.
Media Contact
Chris Olenik - Agency 2.0
co(at)agency20(dot)com
Tel. 323-452-5915