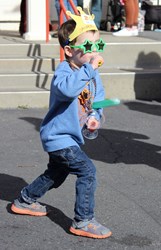 Kids too young to stay up until midnight? Count down to noon at the Bay Area Discovery Museum.
Sausalito, CA (PRWEB) December 26, 2013
The Bay Area Discovery Museum invites families to the annual Noon Year's Eve celebration on Tuesday, December 31 from 9 a.m. - 2 p.m. Families fill Festival Plaza and count down to noon when the ball drops. DJ Mancub provides the party tunes, and in Art Studio 10, kids can make their own festive crowns. All activities are included with Museum admission: $11 per person; infants under 6 months and members are free.
To make the party even more festive, Bubbles & Beads party packages are available for $7, including a bubble wand, beads, sunglasses and a noisemaker. Bubbles & Beads packages are available online for advance reservation, and at the door while supplies last.
Noon Year's Eve is generously supported by Subaru.
About the Bay Area Discovery Museum
Creative thinking begins early in every child's life. It enables original thought and the ability to see solutions where others don't. It unlocks possibilities and fosters innovation. It provides the fundamental building blocks for success in school and beyond.
The Bay Area Discovery Museum is designed to ignite creative thinking in children. 7.5 acres of natural beauty inspires families to engage in a world of possibilities. Framed by the majestic backdrop of the Golden Gate Bridge, the Museum is a space for imaginations to run wild. Every curated detail of our exhibits brings creative thinking to life for all stages of childhood. Navigate winding tunnels to develop physical and intellectual risk-taking skills. Feel the rush of cold-water tide pools that surprise and awaken curiosity. Imagine new worlds by transforming into a spider, a ship captain, or a bridge builder. At every turn is a new opportunity to challenge the boundaries of creativity.
Our mission: To ignite and advance creative thinking for all children.