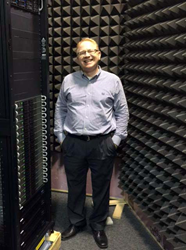 Anyone that wants to build a cluster with CD-adapco software should think of Nor-Tech. We know how to optimize integration to take full advantage of this powerful tool.
MINNEAPOLIS, MN (PRWEB) April 26, 2016
Nor-Tech (Northern Computer Technologies), a global provider of HPC clusters for CFD, CAE, and FEA applications, just announced a partnership with CD-adapco—which offers the world's most comprehensive engineering simulation in a single integrated package.
CD-adapco's STAR-CCM+ goes beyond just being a CFD solver, rather it is an entire engineering process for solving challenges involving the flow of fluids or solids, stress, and heat transfer. The most recent release is STAR-CCM+® v11.02, which includes new modeling capabilities, and productivity and usability improvements that enable Nor-Tech's clients to arrive at better designs in record time.
STAR-CCM+ continues to be an industry leader because of its ability to handle multi-physics and complex geometries; producing high-quality results in a single code with minimum user effort.
This aligns perfectly with Nor-Tech's mission to help clients move effortlessly from workstations to HPC clusters.
Nor-Tech President and CEO David Bollig said, "We have been building HPC clusters for 15 years. Early on we realized that there was a disconnect between the technology expertise of the people that are ultimately using clusters and the level of expertise typically required to deploy clusters. We came up with a protocol that allows even those with very limited technology skills to effectively deploy their clusters from day one. We then back that up with our famous guaranteed no-wait time service—the effect is the same as if we are there in the room working alongside our clients."
Nor-Tech has built multiple clusters that are integrated with STAR-CCM+. Engineers have been impressed with the software's accuracy, efficiency, ease-of-use, ability to scale well into large clusters and its SMB-friendly pricing model.
"Anyone that wants to build a cluster with CD-adapco software should think of Nor-Tech first, Bollig said. "We know how to optimize integration so that clients can take full advantage of this powerful tool."
Nor-Tech built its global reputation on the industry's easiest-to-deploy cluster solutions and guaranteed no wait time support. The company designed and built the HPC cluster that enabled the first detection of a gravitational wave—a discovery destined to change history. In addition to HPC clusters, Nor-Tech's custom technology includes workstations, desktops, and servers for a range of applications including CAE, CFD, and FEA. Clients include some of the most respected organizations in the world. Nor-Tech engineers average 20+ years of experience and are responsible for significant high performance computing innovations. The company is headquartered in Burnsville, Minn. just outside of Minneapolis. To contact Nor-Tech call 952-808-1000/toll free: 877-808-1010 or visit http://www.nor-tech.com. Full release at: http://www.nor-tech.com/category/news/