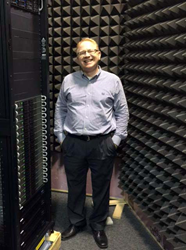 Our clients come from many industries, including automotive, and Convergent Science is one of our key partners.
MINNEAPOLIS (PRWEB) September 13, 2016
Nor-Tech is slated to showcase HPC clusters, workstations and storage for automotive CFD simulations at Convergent Science's 3rd annual CONVERGE User Conference, Sept. 26-30 in Madison, Wisconsin.
Nor-Tech President and CEO David Bollig said, "We have been building clusters and workstations for CFD applications for a decade. Our clients come from many industries, including automotive, and Convergent Science is one of our key partners."
He continued, "What has always set us apart in every sector, including the automotive space, is our focus on straightforward deployment and no wait time support. We like to see our clusters up and working right after they are unboxed and we don't put people on hold. In essence, we eliminate frustration so that our clients can realize the full potential of our clusters and workstations."
Nor-Tech offers a no-strings demo cluster that allows users to run their CAE/CFD/FEA applications, including CONVERGE, on a cluster integrated with the latest Intel CPU and accelerators.
"It's a good way to see just how powerful our clusters are compared with workstations and how easy our clusters are to use," Bollig said. "If you can use a desktop, you can use one of our HPCs—this sets our solutions apart from competitors."
Nor-Tech's clusters are empowering the most innovative vehicle manufacturers in the world--makers of revolutionary combustion engines, cars that fly, and what promises to be the fastest train on record.
This year's conference will include two days of presentations Sept. 27-28 at the Edgewater Hotel on Lake Monona followed by networking events. There will be introductory CONVERGE training on September 26, followed by advanced training and workshops on Sept. 29-30. All training will be held at Convergent Science World Headquarters in Madison.
Convergent Science's CONVERGE is a multipurpose computational fluid dynamics (CFD) code with features that include a fully coupled automated mesh created at runtime and adaptive mesh refinement. CONVERGE eliminates all user meshing time, automates the setup of moving boundaries, eliminates the deforming mesh issues typically associated with moving boundaries, creates orthogonal cells, and maintains the true geometry--independent of the mesh resolution. CONVERGE also includes a detailed chemistry model and a genetic optimization tool.
2016 HPCwire Readers' Choice Award finalist Nor-Tech built its reputation on the industry's easiest-to-deploy cluster solutions and guaranteed no wait time support. The company designed and built the HPC cluster that enabled the first detection of a gravitational wave—a discovery destined to change history. In addition to HPC clusters, Nor-Tech's custom technology includes workstations and servers for a range of applications including CAE, CFD, and FEA. Clients include some of the most respected organizations in the world. Nor-Tech engineers average 20+ years of experience and are responsible for significant high performance computing innovations. The company has been in business since 1998 and is headquartered in Burnsville, Minn. just outside of Minneapolis. To find out more about Nor-Tech's HPC clusters and CONVERGE visit: http://www.nor-tech.com/solutions/hpc or http://www.nor-tech.com/convergecfd/ or contact Nor-Tech at 952-808-1000/toll-free: 877-808-1010. Full release at: http://www.nor-tech.com/category/news/