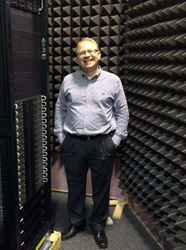 While these applications can be used on a workstation, there's just no question that it is much more cost effective to run them on a cluster.
MINNEAPOLIS (PRWEB) March 09, 2016
HPC Integrator Nor-Tech just announced new cluster software affiliations with Siemens and CD-adapco. The company has also brought eight additional cluster management software applications into their portfolio in the last four weeks.
The addition of these applications gives Nor-Tech extra leverage in the small to medium-sized cluster market.
Nor-Tech President and CEO David Bollig said, "This is an excellent market for us because these are typically organizations that don't have their own supercomputer experts. Clients in this market rely on our engineers for support. Not only are they experienced and knowledgeable, but they are accessible—meaning that when our clients call, someone is there to work with them immediately."
Nor-Tech's new applications include: Siemens Femap and NX Nastran; CD-adapco Star-CCM+ and HEEDS; viewers DCV and ParaView; and open source applications SU2, CGNS, OpenFOAM, Code_Saturne, OVERFLOW, and Fire Dynamics.
Siemens' Femap is an advanced engineering simulation software program that creates FEA models of engineering products and systems. It also displays solution results. Femap's digital simulation capabilities allow users to:

Predict and improve product performance and reliability
Reduce physical prototyping and testing
Evaluate a range of designs and materials
Optimize designs and save materials
CD-adapco's STAR-CCM+ is a complete CFD engineering process for solving problems involving flow, heat transfer, and stress. It tackles problems involving multi-physics and complex geometries—yielding high-quality results in a single code with minimal user effort. The net result is that engineers spend less time preparing and setting up simulations and more time actually analyzing engineering data.
Star-CCM+ employs a unique process-oriented approach to engineering simulation and eliminates bottlenecks by automating time-consuming tasks such as repairing complex and poor quality CAD models or repeating simulations on multiple design variants. Drag-and-drop options let users interactively and efficiently create plots.
"While these applications can be used on a workstation, there's just no question that it is much more cost effective to run them on a cluster," Bollig said. "We have two great tools that demonstrate that: a free demo cluster and a new site that we are co-managing with Intel that show users in real-time how much they can save by transitioning to a cluster from a workstation."
The new site is: http://www.simulationclusters.com. The full list of Nor-Tech's software integration partners is available at: http://www.nor-tech.com/software-integration-partners/
Nor-Tech built its reputation on the industry's easiest-to-deploy cluster solutions and guaranteed no wait time support. The company designed and built the HPC cluster that enabled the first detection of a gravitational wave—a discovery destined to change history. In addition to HPC clusters, Nor-Tech's custom technology includes workstations, desktops, and servers for a range of applications including CAE, CFD, and FEA. Clients include some of the most respected organizations in the world. Nor-Tech engineers average 20+ years of experience and are responsible for significant high performance computing innovations. The company has been in business since 1998 and is headquartered in Burnsville, Minn. just outside of Minneapolis. To contact Nor-Tech call 952-808-1000/toll free: 877-808-1010 or visit http://www.nor-tech.com. Full release at: http://www.nor-tech.com/category/news/
###