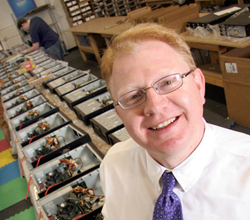 We have been working with SIMULIA for many years. While this relationship has been beneficial for both companies, the real winners are our clients that can fully leverage the power of our clusters with Abaqus."
MINNEAPOLIS (PRWEB) December 28, 2016
Nor-Tech just announced that it is now integrating the latest release of simulation platform Abaqus into its leading-edge HPC clusters. Abaqus 2017 will also be available for a no-cost test drive on simulationclusters.com.
Abaqus, a SIMULIA product developed by Dassault Systèmes, is a scalable suite of unified analysis products that allows all users, regardless of simulation expertise or domain focus, to collaborate and seamlessly share simulation data and approved methods with no loss of information fidelity.
The Abaqus Unified FEA product suite delivers powerful, comprehensive solutions for both routine and high level engineering problems that cover a vast spectrum of industrial applications.
SIMULIA, which creates a new version of Abaqus each year, added the following upgrades to Abaqus 2017:

Enhanced Contact and Constraints
XFEM Contact Improvements for Abaqus/Standard
Advances in LCP (Linear Complimentary Problem) Equation Solver for Abaqus/Standard
CZone Enhancements for Abaqus/Explicit
Enhanced Materials and Elements
Development for Welding and Additive Manufacturing (AM)
Event Series
Usability
Other Key Enhancements: improved direct sparse scalability; explicit dynamic scalability to 1000 cores; GPU acceleration of AMS eigensolver; new material models; Abaqus-SIMPACK integration; table input for user subroutines; progress element activation.
Nor-Tech is currently in the process of integrating Abaqus into its demo cluster, which will also make the software available for testing at simulationclusters.com—a site for real-time demonstration of the ROI of upgrading from a workstation to an HPC cluster. The site is a collaboration between Intel, Dassault Systèmes, and Nor-Tech. There is no cost to the user for either simulationclusters.com or the demo cluster.
For more than a decade, Nor-Tech has been building easy-to-deploy HPC clusters for the world's leading research institutions, Fortune 100 companies and pioneering innovators with applications that include automotive, aerospace and life sciences. The company's cluster capabilities range from 1,000+ core super clusters to smartly engineered entry level clusters.
Nor-Tech President and CEO David Bollig said, "We have been working with SIMULIA for many years. While this relationship has been beneficial for both companies, the real winners are our clients because they are able to fully leverage the power of our clusters with Abaqus."
2016 HPCwire award finalist, Nor-Tech is renowned throughout the scientific, academic, and business communities for easy to deploy turnkey clusters and expert, no wait time support. All of Nor-Tech's technology is made by Nor-Tech in Minnesota and supported by Nor-Tech around the world. In addition to HPC clusters, Nor-Tech's custom technology includes workstations, desktops, and servers for a range of applications including CAE, CFD, and FEA. Nor-Tech engineers average 20+ years of experience and are responsible for significant high performance computing innovations. The company has been in business since 1998 and is headquartered in Burnsville, Minn. just outside of Minneapolis. To contact Nor-Tech call 952-808-1000/toll free: 877-808-1010 or visit http://www.nor-tech.com. Full release at: http://www.nor-tech.com/category/news/