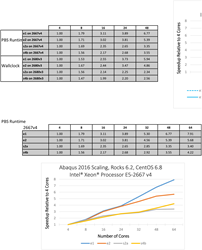 There are many performance advantages with the primary benefit being significantly improved clock speed.
MINNEAPOLIS (PRWEB) July 13, 2016
Nor-Tech just announced that Simulationclusters.com, a site for real-time demonstration of the ROI of upgrading from a workstation to an HPC cluster, is now running Intel's cutting-edge E5-2600 v4 processors. The site is a collaboration between Nor-Tech, Intel, and Dassault Systèmes. Benchmark tests with the new processors show dramatic performance increases and significant cost benefits.
The powerful Intel Xeon E5-2600 v4 processor line is designed for architecting next-generation datacenters running on software defined infrastructures across Cloud and traditional applications. These processors are designed to meet the perpetual demand for increased performance, agility, operational efficiency, scale-on-demand and security throughout the server, storage and network infrastructure – while minimizing total cost of ownership. They support workloads for Cloud, high-performance computing, networking, and storage
Nor-Tech President and CEO David Bollig said, "Simulationclusters.com users will be able to assess the advantages of Intel v4 Broadwell-EP and all the enhancements related to HPC. There are many performance advantages with the primary benefit being significantly improved clock speed."
Nor-Tech has been at the forefront of supercomputing innovation, delivering HPC solutions for more than a decade. The company offers a full range of HPC clusters, including standard 42U rackmount clusters, GPU clusters, visualization clusters, workgroup clusters, office clusters, and portable clusters all available with Intel's new v4 processors. Simulationclusters.com runs Abaqus FEA, a SIMULIA product developed by Dassault. It is a scalable suite of unified analysis products that allows all users to collaborate and share simulation data and approved methods without the loss of information fidelity.
The product suite offers powerful solutions for both routine and sophisticated engineering problems that cover a spectrum of industrial applications. Upgrades for 2016 include: enhanced contact, enhanced materials and elements, and enhanced interface and usability. This means reduction in FEA toolset and training expenses; greater efficiency in model generation; improved correlation between tests and analysis results; improved data transfer between simulations; and a more flexible workforce.
In addition to Dassault Simulia's latest version of Abaqus, other simulation and modeling software is available to run on simultionclusters.com. For real time determination of simulation cluster ROI, visit: http://www.simulationclusters.com/.
Nor-Tech also maintains a cutting-edge Demo Cluster, geared toward CAE/CFD/FEA applications, that demonstrates the benefits of transitioning applications from workstations to HPC clusters. There is no cost to the user for either simulationclusters.com or the demo cluster.
Nor-Tech built its international reputation on the industry's easiest-to-deploy cluster solutions and guaranteed no wait time support. The company designed and built the HPC cluster that enabled the first detection of a gravitational wave—a discovery destined to change history. In addition to HPC clusters, Nor-Tech's custom technology includes workstations, desktops, and servers for a range of applications including CAE, CFD, and FEA. Clients include some of the most respected organizations in the world. Nor-Tech engineers average 20+ years of experience and are responsible for significant high performance computing innovations. The company has been in business since 1998 and is headquartered in Burnsville, Minn. just outside of Minneapolis. To contact Nor-Tech, call 952-808-1000/toll free: 877-808-1010 or visit http://www.nor-tech.com. Full release at: http://www.nor-tech.com/category/news/
###