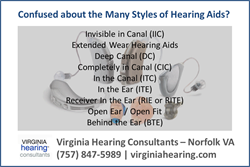 Norfolk, Virginia (PRWEB) October 08, 2013
Researching hearing aids can be difficult for the first time shopper because there are so many different styles and so many different acronyms used to describe them.To clear up some of the confusion, Virginia Hearing Consultants has published a user-friendly list of common hearing aid styles and terminology on their website on the page called Style Guide – A Guide To Hearing Aid Choices. The following major hearing aid styles are included in the list, which is presented from smallest to largest size.
Invisible in Canal (IIC)
Extended Wear Hearing Aids
Deep Canal (DC)
Completely in Canal (CIC)
In the Canal (ITC)
In the Ear (ITE)
Receiver In the Ear (RIE or RITE)
Open Ear / Open Fit
Behind the Ear (BTE)
When all the hearing aid types are listed side by side, it's easy to see why consumers have difficultly distinguishing them. Many of the names and abbreviations are extremely similar. Virginia Hearing Consultants hopes that the quick reference guide will help clarify some of the essential differences between the various types of hearing aids. At the same time, the audiologists at Virginia Hearing Consultants encourage any person considering a hearing aid purchase not to reply on internet research alone, but rather to make an appointment with an expert. A hearing care professional can provide advice about which hearing aid styles are appropriate for an individual after learning more about that person's lifestyle and activities and where the hearing aid will be worn most often.
About Dr. Theresa Bartlett:
Dr. Theresa Bartlett Au.D. is the primary audiologist at Virginia Hearing Consultants. She founded a private audiology practice in Norfolk in 2003 which later merged with another to form Virginia Hearing Consultants in 2005. Dr. Bartlett earned her Bachelor's Degree in Speech Pathology from James Madison University, her Master's Degree in Speech and Hearing Sciences from the University of Southern Mississippi, and her Doctorate in Audiology from the Arizona School of Health Sciences. Dr. Bartlett is certified by the American Speech and Hearing Association and is a member of the American Academy of Audiology and the Tidewater Audiology Society. She is also a member of the Academy of Doctors of Audiology.
About Virginia Hearing Consultants:
Virginia Hearing Consultants has provided hearing aids in Norfolk, Virginia and its surrounding communities for over 9 years. The company offers a full range of diagnostic and preventative hearing healthcare professional services, including hearing aid screening, evaluations, hearing aids sales and rehabilitative and preventative counseling. The staff is dedicated to keeping abreast of the latest improvements in technological advancements in the hearing industry and is committed to offering the most current options to our patients.
Contact:
Dr. Theresa Bartlett
http://virginiahearing.com
Virginia Hearing Consultants
241 Corporate Blvd., Suite 150
Norfolk, VA 23502
(757) 847-5989