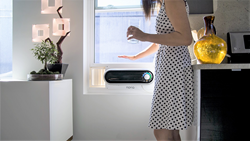 We designed Noria from the ground up with the user experience in mind.
PHILADELPHIA, Penn. (PRWEB) May 18, 2016
Noria, a new smart, compact window air conditioner, surpassed its $250K funding goal on Kickstarter, currently raising over $595K. The American company designed Noria to be quiet and easy to install. The window air conditioner also offers several smart features to save users time and energy, in addition to saving space.
"Air conditioning is necessary for keeping our homes and offices cool during hot summer months, but currently available window air conditioners are big, noisy, and difficult to install," Noria co-founder Justin Bain said. "We designed Noria from the ground up with the user experience in mind."
Noria and its low-profile design offer several high-tech features including an intuitive interface for simple interaction, Bluetooth connectivity, energy saving schedules, iOS and Android apps to control settings and a fresh air mode to bring in outside air on cooler days and nights. During those times, Noria can turn off the compressor and bring fresh, outside air into your home.
Consumers can use multiple Noria units in their home and control each one with the startup's free iOS or Android app. Using the app, Noria can be scheduled each day so consumers come home to a cool space without running electricity all day. Noria's design also blows cool air upward, which helps prevent warm spots in the room and improve circulation, comfort, and efficiency.
The unit, which is less than 6 inches tall and 40% smaller than existing units, is small enough to fit in a 21" wide window and cool a room up to 160 square feet. The vapor-compression refrigeration uses environmentally and ozone-friendly R410a refrigerant. With a cooling capacity of 5,000 BTU/hour, Noria uses approximately 460-480 watts. The unit itself draws approximately four amps during operation.
Noria is available on Kickstarter at a discounted price for a limited time. Backers can purchase their own Noria starting at $299, which is $100 off the future retail price. The campaign has already more than doubled its original funding goal of $250K, having raised over half a million dollars. Potential backers have 16 more days to purchase their own Noria at a special price. For more information about Noria or the campaign, visit http://bit.ly/NoriaKS.
About Noria Technologies
Noria Technologies was founded in Philadelphia, Pennsylvania by a team of experienced engineers who have been developing the Noria window air conditioner since 2012. For more information on Noria Technologies, please visit http://www.noriahome.com.