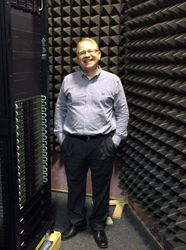 All three of these innovations are focused on saving clients money by transitioning to high performance computing solutions.
Minneapolis, MN (PRWEB) January 12, 2016
Nor-Tech is taking a leadership role with two tools that prove the benefits of upgrading to a cluster from a workstation: a Demo HPC Cluster for CAE/CFD/FEA; and an online tool, in partnership with Intel, for demonstrating the ROI of simulation clusters in real time.
Clients and prospects have been taking advantage of a groundbreaking Demo Cluster that allows them to run a no-strings trial of their applications on a supercomputer cluster.
This is the second utility that Nor-Tech has created to demonstrate the ROI of HPC clusters over workstations. Nor-Tech, Intel, and ISV partners are currently in the process of finalizing an online tool that demonstrates, in real time, the ROI of transitioning from a workstation to a cluster for simulation applications.
Nor-Tech President and CEO David Bollig said, "This has been a spectacular period of innovation for us. Highly practical innovation is what defines us as a company. The capability and drive to innovate ahead of the industry sets us apart in the market."
In addition to the new workstation-to-cluster utilities, Nor-Tech innovated a groundbreaking cluster design that brings HPC within the financial reach of most organizations. It is a business-class version of their market-disrupting HPC/multi-GPU server. Nor-Tech is the first and only technology integrator to offer this markedly less expensive multi-GPU server solution.
"All three of these innovations are focused on saving clients money by transitioning to high performance computing solutions," Bollig said. "We would not have worked so hard to build the Demo Cluster, develop the new simulation cluster website, or brainstorm a way to re-design the server rack if it was not for the fact that we are confident in the financial advantages of the HPC clusters we offer."
Winner of Microsoft's prestigious Most Valuable System Builder Partner award and a 2015 HPCwire Readers' Choice Award finalist, Nor-Tech (Northern Computer Technologies) is an industry-leading technology builder and reseller best known for providing turnkey, people-friendly high performance computing solutions and software integration. In addition to HPCs, their custom technology includes workstations, desktops, and servers for a range of sectors including computer-aided engineering (CAE) and computer-aided design (CAD). Nor-Tech's engineers average 20+ years of experience. They have been in business since 1998 and are headquartered in Burnsville, Minn. just outside of Minneapolis. Clients include some of the largest organizations in the world. To contact Nor-Tech call 952-808-1000/toll free: 877-808-1010 or visit http://www.nor-tech.com. For more information on the Demo Cluster and affordable business class HPC servers, visit Nor-Tech's website. Stay tuned for more information on the simulation cluster site. Full release at: http://www.nor-tech.com/category/news/