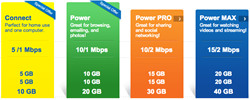 Internet Broadband.us.com now offers North Dakota residents the option to purchase a high speed Internet and unlimited phone calling service bundle saving 25% to 35% on their phone and Internet bill.
Bismarck, North Dakota (PRWEB) September 05, 2013
Internet Broadband.us.com (http://www.internetbroadband.us.com) is the most popular and sought after satellite internet service available on the market today delivering high speed Internet and unlimited phone service to all counties in North Dakota including all homes in ND. The service is delivered with a couple pieces of equipment including a satellite dish and a modem. With these two pieces of equipment, service is available to all those who do not have access to DSL or cable and with speeds up to 15Mb/s per second. For all those hoping high speed internet and bundled voice solution, change has come.
Benefits of North Dakota High Speed Satellite Internet:

Download Speeds up to 15 Mbps
Upload Speeds up to 2 Mbps
Faster Than DSL and Most Cable Providers
Available Almost Anywhere Where Cable and DSL Are Not
Unlimited Phone Calls throughout US and Canada
Does Not Need a Phone Landline
Low Monthly Rate
And much more...
In the past, many people in rural America were satisfied with dial up or slow DSL connections. With the new world of social media and online videos, slow dialup and DSL is no longer sufficient. Citizens throughout America are now demanding higher speeds and more Bandwidth to not only entertain themselves, but to connect to the world on a daily basis. High speed satellite Internet in North Dakota can deliver speeds up to 15Mb with a dish that is put on your roof and a modem indoors. Two simple pieces of equipment on the premise and you are ushered into the 21st century.
A spokesman for the company has stated that "demand for bundled services has been on the rise in the past few years and customers are looking for a simplified solution offering North Dakota high speed Internet and unlimited phone service." Internet Broadband offers that package and customers have been signing up in large numbers. After the service is ordered, installation will generally take 3 to 7 days to install which is a fraction of the time it takes for DSL or cable to install to residential clients.
Satellite Internet as a technology is a real game changer for those who have been dependent on the copper infrastructure or coax cable of the telecom carriers. DSL has always been delivered via copper wires to the premise and customers need to be less than 15,000 feet from the central office for DSL to be available. This drastically limits the availability of service to many who live in rural neighborhoods in North Dakota. With satellite Internet, it does not matter where someone lives, service is always available and can be delivered anywhere in the United States.
North Dakota Satellite Bandwidth Internet is now available in the following ND counties:
Adams County, Barnes County, Benson County, Billings County, Bottineau County, Bowman County, Burke County, Burleigh County, Cass County, Cavalier County, Dickey County,Divide County, Dunn County, Eddy County, Emmons County, Foster County, Golden Valley County, Grand Forks County, Grant County, Griggs County, Hettinger County, Kidder County,Lamoure County, Logan County, McHenry County, McIntosh County, McKenzie County,McLean County, Mercer County, Morton County, Mountrail County, Nelson County, Oliver County, Pembina County, Pierce County, Ramsey County, Ransom County, Renville County,Richland County, Rolette County, Sargent County, Sheridan County, Sioux County, Slope County, Stark County, Steele County, Stutsman County, Towner County, Traill County, Walsh County, Ward County, Wells County, and Williams County.
For more information on the coverage area for Satellite Internet, please visit: http://www.satelliteinternetplans.co/north-dakota/
Until the recent past, VoIP could not be delivered through satellite however, with the advance of technology, this not only is a cost effective solution, but one with crystal clear quality for all customers. Satellite Internet service uses advanced Voice-over-IP (VoIP) equipment to provide a rich experience with many phone service features including call waiting, call forwarding, three way calling and many more. The hardware used to install service is an Analog Telephone Adapter (ATA) which will transport calls through the satellite dish and modem for transmission. To install satellite service in North Dakota, a technician will schedule an appointment for approximately 45 minutes.
For more information on satellite Internet and phone service providers, please call toll free and speak with a representative today at 1-877-247-5156 or by visiting: http://www.satelliteinternetpricing.com