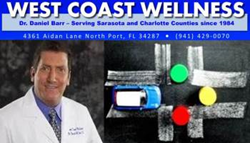 This will be our 30th anniversary focusing on automobile injury cases in and around the community of North Port, Florida.
North Port, FL (PRWEB) May 30, 2014
"This will be our 30th anniversary focusing on automobile injury cases in and around the community of North Port, Florida," explains local chiropractor Dr. Daniel Barr. Dr. Barr, along with his team of healthcare professionals and their support staff at West Coast Wellness, cares for patients suffering from a variety of musculoskeletal problems ranging from pain, inflammation and muscle spasms to arthritis. Over the years, West Coast Wellness has developed specialized expertise in treating auto injuries using a combination of proven techniques and state-of-the-art equipment, including chiropractic care, massage and deep tissue laser therapy, all of which have proven effective in promoting recovery and providing fast and long-lasting pain relief.
With automobile injuries on the rise in Florida, many North Port residents have turned to Dr. Barr because of his decades of experience and exceptional skill in diagnosing and treating back and neck injuries. Dr. Barr believes that this trend is likely to continue into the foreseeable future. "We treat hundreds of auto injury cases every year, and we don't see any signs that the number accidents or injuries is slowing down so far in 2014."
Automobile accidents can be painful and debilitating. Coping with their aftermath can also be complicated and confusing. For the team at West Coast Wellness, working with auto accident patients requires a unique combination of medical and administrative expertise. Dr. Barr designs treatment plans to meet the specific recovery needs of each patient while his knowledgeable staff also assists patients with issues related to insurance and attorneys, no matter how complex.
When auto accidents occur, many patients find themselves in the dark about how to get the right healthcare with the insurance they have. Recent changes to PIP (Personal Injury Protection) insurance have affected access to care and the decisions people must make after they've been in an accident. Dr. Barr puts these changes into perspective. "Our clinical skills have always been outstanding and changes to the PIP law don't really affect how we treat auto injury cases. However, the PIP changes have made it even more important for victims to work with a healthcare provider who really understands how the law works. If you don't, the risk is that you could find yourself responsible for bills not submitted properly to the insurance companies."
About West Coast Wellness and Dr. Daniel Barr
West Coast Wellness is North Port's premier pain relief and auto injury rehab center, serving patients from across Sarasota and Charlotte Counties. Daniel Barr, D.C. received his doctorate of chiropractic from Life University in 1984 and has been licensed to practice in Florida since 1985. He is a diplomat of the National Board of Chiropractic Examiners. He founded Barr Chiropractic in 1985 and West Coast Wellness in 2006.
West Coast Wellness
4361 Aidan Lane
North Port, FL 34287
(941) 429-0070
http://wcwellness.com
Follow West Coast Wellness on Facebook.