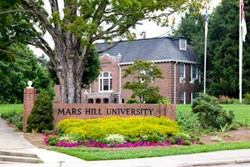 Mars Hill, NC (PRWEB) October 07, 2013
Enrollment growth continues at Mars Hill University in North Carolina despite troubling demographic trends, economic uncertainty and new questions about the value of a college education. Since partnering with the higher education consulting firm, The Dysart Group, Inc., the institution has realized record-setting growth.
Over the past three years, the enrollment team at Mars Hill University has implemented significant changes in the areas of financial aid and recruitment. The results are nothing short of outstanding.

Traditional student enrollment has reached another high. Fall 2013 enrollment has increased by nearly 7% from the 30-year record enrollment achieved last year. Since 2010, enrollment has soared by 28%!
Total enrollment including adult and graduate students now stands at 1,459!
The school has finally made the transition from a college to a university. The new status was announced in August.
The University has increased geographic diversity as 36% of students are out of state and another 4% are international.
Two brand new residence halls were opened this Fall and they will be filled immediately.
New recruitment and financial aid strategies have enabled the team at Mars Hill University to initiate growth while many other schools struggle to avoid declines.