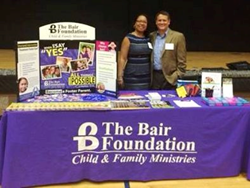 Bair's goal is to provide high quality foster care where children & teens can thrive in a family environment.
New Wilmington, PA (PRWEB) September 28, 2014
The Bair Foundation, a Christian child and family ministry has opened a new office in Raleigh, North Carolina recently. With 47 years of child welfare and social service experience, The Bair Foundation has impacted the lives of hundreds of foster youth and families at risk. As a leader in the field of therapeutic foster care, Bair offers a range of services with this goal: To provide high quality foster care where children and teens can thrive in a safe, family environment until permanency can be achieved.
The Raleigh office will be offering two services initially that will include Therapeutic Foster Care, where they match the specific needs of foster youth with the strengths of their highly trained foster families, and Intensive Alternative Family Treatment (IAFT). IAFT helps children that are struggling in their home with the goal of keeping families together and is an alternative to a residential treatment facility. A Clinical Team works with the Partner Family to develop specific goals and outcomes for a successful transition into the home. They facilitate this process through daily phone calls to the Partner Family, community outreach and monthly meetings. After these goals are met, the Discharge Family Resource will work with the Partner Family to transfer the new skills back into the foster youth's home.
The new Raleigh staff held their first Foster Parent Training classes on Sept. 2nd. Using the Pressley Ridge Treatment Foster Care Curriculum, families will be prepared to care for a foster child. This curriculum is based on a competency model, teaching specific skill sets for foster and adoptive parents. The next Foster Parent Training classes will begin on Oct. 21, 2014.
Any resident near the Raleigh area who can open their hearts to these children in need and who would like to experience the rewards of being a foster parent can email Parent Recruiter, Ashley LaMaster at alamaster(at)bair(dot)org to receive a free, no obligation, information packet and/or an invitation to orientation which is scheduled for Oct. 9, 6-7pm. You can also contact Program Director, Dama Conti at 919-573-6127.
The new office is located at:
3737 Glenwood Ave. Suite 100
Raleigh, NC 27612
919-573-6127 or 919-573-6128
About The Bair Foundation
The Bair Foundation is a national organization that has successfully cared for and treated children, teens and families for over 47 years. With 31 offices in 9 states it offers a myriad of community based services which include Structured Intervention Treatment Foster Care, Traditional Foster Care, Adoption Services, Medically-Needy Foster Care, Independent Living Services, Parent Empowerment Program, B.E.S.T. Program, Wraparound Services, In-Home Services, Assessment Home, and Outpatient Services. The Bair Foundation is accredited by COA (Council on Accreditation) and is a member of The Evangelical Council for Financial Accountability, Alliance for Children and Families, Christian Alliance for Orphans, and Foster Family-Based Treatment Association. To find out more about The Bair Foundation, visit http://www.bair.org and http://www.facebook.com/thebairfoundation.