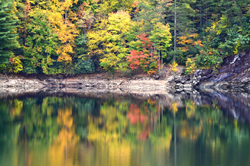 Jackson County, NC (PRWEB) April 30, 2014
Where can you see Tim McGraw, sample craft beer, turn a pottery wheel, conquer the rapids and dine with a James Beard Chef all in one weekend? According to the Jackson County Tourism Development Authority, the hot travel trend this summer is the friend-cation – hitting the road with a group of guys and gals or the whole "framily." Located between the Great Smoky Mountains to the north and the Blue Ridge Mountains to the south, Jackson County's idyllic mountain towns of Cashiers, Cherokee, Dillsboro, Sylva, Balsam, Cullowhee, Glenville and Sapphire are the perfect friend-cation and framily destinations! For more information, visit http://www.mountainlovers.com/.
Hike, Bike and Raft
Jackson County is home to some of the best hiking in the Great Smoky Mountains with elevations ranging from 2,000 to 6,000 feet, more than 50 well-maintained mountain hiking and biking trails including 675 miles of trails in the Great Smoky Mountains National Park alone and waterfalls galore. For adventurous rafting and watersports, the area is also home to four whitewater rivers: the Tuckasegee, Chattooga, Oconaluftee and the nearby Nantahala, with difficulty ranging from Class I to Class VI.
Insider Tip: Every summer, the Glenville Dam is released once a month, creating more than five miles of class III – IV+ rapids for kayakers looking for extra adventure. Releases are scheduled on May 11, June 8, July 6, July 27 and Aug. 10.
A River Runs Through It
Anglers flock to Jackson County to fish the first and only fly fishing trail in the U.S. – the Western North Carolina Fly Fishing Trail. Made up of more than 70 miles of rivers and streams, the picturesque trail features some of the best trout waters in the crystal-clear streams of the Great Smoky Mountains. The WNC Fly Fishing Trail allows anglers to easily download a map, descriptions and GPS coordinates for15 excellent spots for catching brook, brown and rainbow trout.
Insider Tip: Last fall, the river was stocked with 19,600 trout so the fish are certainly biting.
Gaming, Entertainment & Comedy
Harrah's Cherokee Casino Resort has some of the best gaming and top entertainment in Western North Carolina. In addition to dining at Ruth's Chris Steak House and world-class gaming with live table games like Blackjack, Roulette, craps and more in the casino, Harrah's boasts great music and entertainment in the brand new Cherokee Events Center.
Insider Tip: Don't miss big-name acts like Jim Gaffigan, Gin Blossoms and Spin Doctors, Jennifer Nettles, and Tim McGraw appearing this summer.
Shopping and Antiquing
From locally-made fine arts and crafts to antiques and flea market finds, friends looking to spend the weekend shopping can enjoy an eclectic mix in Jackson County. Cashiers, Dillsboro and Sylva offer town centers as well as small shops and boutiques while Dillsboro is known for locally made arts and crafts and talented artists including potters, jewelers and quilters. If antiquing is a passion, visitors can't miss the antiques in Jackson County.
Insider Tip: Don't miss out on the 10th annual WNC Pottery Festival Nov. 1, 2014.
Locally Sourced and Locally Brewed
Jackson County's dining choices are equally abundant and the area is continuously attracting top-notch chef talent to its ever growing dining scene. Visitors will discover a wide range of restaurants to tempt their palate including fine dining, good old country cooking, and quick bites that mix culinary influences with food native to the area.
Chef John Fleer's Canyon Kitchen, offers a style of cuisine and hospitality that shines with simple elegance and focuses on overall guest experience. There, a sweet Sungold tomato from the garden might appear on a salad with Raceway lettuces, fresh herbs and Nana's pepper relish. Locally-grown figs are served with a rich Basque almond cake or in a chutney on Berkshire Pork glazed with New Orleans' Abita Root Beer. At Balsam Mountain Inn, this historic restaurant puts an emphasis on hearty, carefully prepared meals using fresh, local ingredients. Appetizers, such as Mountain Trout Dip with Fresh Sunburst Farms Smoked Trout and main courses, like the Balsam Filet with a gorgonzola and garlic herb compound butter can be paired with beer from local breweries, such as Heinzelmännchen Brewery and Innovation Brewing.
Insider Tip: For those with a sweet tooth, The Dillsboro Chocolate Factory offers a wide selection and variety of hand-dipped chocolates, home-made fudge, gourmet coffees from around the world, Jelly-Bellies, Handmade Truffles, gifts and more.
Room with a View
Once activities are finished for the day, visitors can relax in accommodations as diverse as the area and its activities. They range from full-service resorts including the well-known Sapphire Valley Resort and High Hampton Inn & Country Club to historic county inns like Jarrett House. Guests can also choose from charming B&Bs and a variety of quaint mountain cottages. Several campsites are available for those who can't get enough of the great outdoors. In all cases, superior mountain, river or lake views come at no extra charge.
Insider Tip: From log cabins to luxury homes, Jackson County offers a number of great vacation rentals homes for big groups.
About Jackson County:
Jackson County is a centrally located Southern mountain getaway that is an easy 2.5 – 3.5 hour drive from most major Southeast cities including Atlanta, Charlotte, Greenville, Knoxville and Chattanooga. Cashiers, Cherokee, Dillsboro, Sylva, Balsam, Cullowhee, Glenville and Sapphire are the distinct locales that make up Western North Carolina's Jackson County, a place of lofty peaks, rushing water and spectacular scenery. Each of these Blue Ridge Mountain towns provides rich natural beauty that invites visitors to experience the idyllic North Carolina Mountains. Explore miles of hiking trails surrounded by unspoiled forests or discover the area's shopping, dining, culture, and hometown atmosphere. Experience the thrill of river rafting and tubing or the more laid back adventures of fly fishing, boating, golf, or a scenic drive on the Blue Ridge Parkway. For more information visit, http://www.facebook.com/MountainLoversNC.