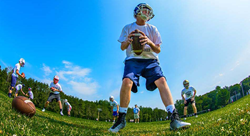 Football players need to stay conditioned in the off season to keep their skills sharp.
San Rafael, CA (PRWEB) April 20, 2016
US Sports Camps' The Northeast Football Clinic (NEFC) is the total football experience. This year marks the exclusive training clinics' 34th year in operation, and, as in years past, they have lined up an impressive coaching staff. The clinics will run for one weekend in July from the 8th – 10th for boys entering grades 6-12. The outstanding professional, college, and high school staff complement and supplement the players' fall coaching.
Notable coaches for the Quarterback/Receiver Clinic include many from local schools such as Maine Maritime Academy, Marshwood, Springfield College, New Hampton School, Worcester Academy, Endicott College, Colby College, Amherst College, the Georgetown Royals, Assumption Greyhounds, Marshwood High School, Central Catholic, Cumberland High School, Mercersberg Academy, and St. Anselms College. Other renowned coaches come from Texas A&M, Tufts, University of Maine, The Citadel, and UNH. The program will be directed by Coach Alex Rotsko, who has 38 years of coaching experience and a State Coach of the Year title in Maine.
Bill Ball, long time football coach and athletic director at Exeter High School, will return to lead the Lineman/Linebacker Clinic. He'll be supported by former Buffalo Bills player, first team All-American, and former Lynfield High school coach, Bill Adams. The two of them will be accompanied by other highly distinguished coaches who have built a career on the sport. Players who attend camp will also receive training from coaches out of Exeter, Georgetown, Whittier College, University of Connecticut, New Haven, Holy Cross, and Concord Carlisle.
The NEFC has trained thousands of players at the beautiful prep school, Governor's Academy, in Byfield, MA. This year will not disappoint. "Football players need to stay conditioned in the off season to keep their skills sharp. Our Northeast Football clinics are built with this in mind," states Jan O'Connor, Executive Vice President of US Sports Camps. "The training is second to none and the timing is perfect." Incorporated in the clinics are off-field coaching techniques such as college training films, classroom lectures and chalk talks. They are a teaching clinic.
To learn more or to enroll in a clinic visit http://www.ussportscamps.com/football or call 1-800-NIKE-CAMP.
About US Sports Camps, Inc.
US Sports Camps (USSC), headquartered in San Rafael, California, is America's largest sports camp network and the licensed operator of Nike Sports Camps. Over 75,000 kids attended a US Sports Camp program in 2015. The company has offered summer camps since 1975 with the same mission that defines it today: to shape a lifelong enjoyment of athletics through high quality sports education and skill enhancement.