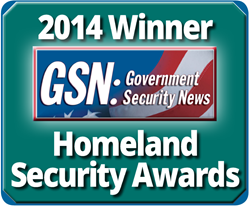 We are very honored to be declared the network notification standard at these crucial Department of Defense organizations, Howard Ryan, CEO and Founder Desktop Alert Inc.
Chatham, New Jersey (PRWEB) November 21, 2014
Desktop Alert Inc., tthe 'less than one minute alert notification platform' used by the U.S. Military and numerous healthcare and corporate organizations worldwide, today announced that USNORTHCOM and NORAD have standardized on the Desktop Alert Notification Platform and were recently named as 1st Place Platinum Award recipients in the prestigious GSN 2014 Homeland Security Awards for Most Notable Emergency Response Implementation – Federal/State or Local based on the Desktop Alert Network Enterprise Level Notification System.
United States Northern Command (USNORTHCOM ) provides command and control over the Defense Department's homeland defense efforts and coordinates defense support of civil authorities. The U.S. Northern Command defends the U.S. homeland, protecting its people, national power, and freedom of action.
Desktop Alert is also now the standard at the North American Aerospace Defense Command (NORAD), a combined organization of the United States and Canada that provides aerospace warning, air sovereignty, and defense for Northern America. Desktop Alert's latest generation Desktop Alert Emergency Notification capability is now integrated with the Emergency Conferencing System for the NORAD Headquarters at Peterson Air Force Base in Colorado Springs Colorado.
Never before has a Military Installation had such a powerful solution for immediate and effective warning and communication for Headquarters personnel, staff, and visitors in the event of an emergency condition.
The U.S. Northern Command has a twofold mission:

Conduct operations to deter, prevent, and defeat threats and aggression aimed at the United States, its territories, and its interests in the assigned area of responsibility
As directed by the president or secretary of defense, provide support of civil authorities (typically a lead federal agency) in homeland defense operations, including consequence management operations.
Desktop Alert can contact thousands of computer users at their desktop and require them to click to confirm receipt of the message flashed on their screen. Those not verified are then listed on a report and/or sent as an integrated "Target Package" to be automatically contacted by other means such as email, sms, texting, smartphone, and personal safety device.
Desktop Alert Inc is the official provider of the enterprise notification system to the Army and Air National Guard, as well as the United States Air Force Academy, USAF Space Command at Peterson Air Force Base, and Fort Rucker in Alabama. Desktop Alert Inc. is the largest provider of IP-based notification services to the United States Army worldwide including Fort Hood in Texas.
"We are very honored to be declared the network notification standard at these crucial Department of Defense organizations. Critical decisions need to be made by today's dynamic leaders who know best that they must establish maximum situational awareness immediately during challenging events. Technology is highly prioritized which will save lives, protect property, and ensure continuity of operations under extreme circumstance. With an increasing Global mission, this timely Desktop Alert Integration with the Network Emergency Conferencing System is a significant fortification of capabilities", said Howard Ryan, CEO and Founder Desktop Alert Inc.
About Desktop Alert Inc. http://www.desktopalert.net
Desktop Alert provides an array of end-point integrations with customers public address systems (Giant Voice), intercom systems, commanders channels, e-mail platforms, DSN-based and cloud-based telephony and sms message systems, network desktop alert popups, national weather service zip code based alerts, digital signage, cable tv, numerous social media systems, CAP server alert, external system sensors such as temperature devices and fire alarm systems.