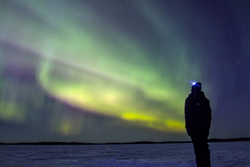 Guests on Lights in the Wild will be entertained by ghostly "rivers of light" that dance across the Arctic night skies in brilliant shades of green, red, yellow and purple
(PRWEB) August 11, 2015
Churchill Wild, Canada's premier supplier of on-the-ground Polar Bear Tours and Polar Bear Walking Safaris, is proud to announce their newest adventure, Lights in the Wild, a northern lights viewing experience that is sure to delight discerning aurora borealis seekers and adventurers from around the world.
"We've been watching spectacular light shows at our northern lodges for years," said Churchill-Wild co-owner Mike Reimer. "That, combined with client requests, led us to create Lights in the Wild. It's the first trip of its kind that we know of at a fly-in eco-lodge in Canada's Arctic, and it also features authentic northern activities that will captivate guests all week long."
Lights in the Wild will be based out of Churchill Wild's remote North Knife Lake Lodge, 300 km north of Thompson, Manitoba. The massive custom-built wilderness lodge is located deep in the heart of the boreal forest in the largest remaining untamed wilderness on earth, which is also home to the vast caribou herds of the Canadian Arctic. Remote, isolated and pristine beyond belief, this area of Canada's Arctic provides exceptional northern lights activity in exquisite northern silence.
Guests on Lights in the Wild will be entertained by ghostly "rivers of light" that dance across the Arctic night skies in brilliant shades of green, red, yellow and purple, enveloped in a bottomless black backdrop flooded with millions of twinkling stars.
Some claim they can hear the northern lights; others claim they can call them; but certainly all are awestruck by their spellbinding beauty. Imagine being wrapped in caribou skins and laying out in the middle of the lake under the lights at night, hearing and feeling the swish of crystalline snow drifting past you while the aurora dances above. It's a very different world that few ever experience.
Daytime activities on the Lights in the Wild adventure will keep guests busy with choices that include snowshoeing, ice fishing, hot tubbing, fireside stories and legends, wolf howling, animal tracking, dog sledding, snowmobiling, visiting a local Inuit camp and more traditional pursuits. Optional helicopter and bush plane charters to see the caribou herds daily are also available.
Possible wildlife sightings on Lights in the Wild include moose, caribou, wolves, Arctic fox, pine marten and a variety of northern birds. There will also be a trapper on site to regale guests with tales of the north and bush lore, and to teach bannock making, setting nets under the ice, chopping firewood, snowshoeing, animal tracking, wild game preparation and anything else you might like to learn from a genuine northern trapper!
The culinary experience on all Churchill Wild adventures is always something special and it will be no different on Lights in the Wild, with deliciously prepared meals from the award-winning cookbook series Blueberries and Polar Bears that include wild game dishes complemented by fine wines, and maybe even the fresh fish you just caught, in one of the purest spring-fed bodies of water on the planet.
Lights in the Wild is now booking for March 20-27, 2016.
About Churchill Wild:
Churchill Wild is the world's first and only provider of polar bear safaris that offer on-the-ground access to polar bears. Polar bear safaris run from mid-July to mid-November with a 100% success rate at the only fly-in polar bear eco-lodges on the Hudson Bay coast, which is home to the largest and most accessible polar bear population on the planet. Additional information and booking details may be found on their Web site at http://www.ChurchillWild.com or by calling (204) 878-5090.