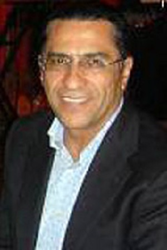 North Hollywood, CA (PRWEB) May 18, 2016
Hamlin Dental Group and North Hollywood orthodontist, Dr. Garemani, are now offering comprehensive orthodontic treatments. Orthodontic treatments, such as Invisalign and braces, are used to correct jaw misalignments and straighten teeth. A variety of treatment options are available and can be used for both dental health and cosmetic reasons.
Candidates for orthodontic treatments may be able to choose from a variety of treatments, including:

Traditional brackets and wires straighten teeth effectively using applied pressure. They have been used for decades and are versatile enough to be used on virtually any type of malocclusion.
Invisalign is a clear orthodontic system that uses clear aligner trays instead of brackets and wires. These trays fit over the tops of teeth and appear to be invisible when worn. They are good for minor and moderate orthodontic problems but may not be appropriate for more complex issues.
Ceramic braces use tooth-colored brackets with traditional wires for the versatility of conventional braces without the obvious look of metal.
Lingual braces are a special type of braces applied to the backs of teeth for a nearly invisible type of orthodontic treatment.
"Our staff is here to ensure a pleasant experience during your visit to our office," Dr. Garemani's team explained, "[Our] goal is to communicate well with our patients and provide the best care possible." The team offers comprehensive dental care that includes teeth whitening, preventive care, pediatric dentistry, routine cleanings, checkups, dental fillings, dental crowns, root canal treatments, smile makeovers, dental veneers, dental implants, dental bridges, crown lengthening and periodontal treatments.
About Dr. Garemani, Dentist North Hollywood
Dr. Garemani is a board-certified orthodontist with more than 25 years of experience. He is known for his compassionate, friendly nature and his gentle character. He has created many healthy, beautiful smiles over the years and encourages his patients to take an active role in the creation of their smiles. He works with a team of highly skilled dentists and dental specialists at Hamlin Dental Group, including Drs. Hamid Reza. The multi-lingual practice has members that can speak English, Spanish, Farsi, German, Arabic and Armenian.