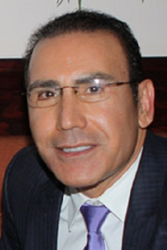 North Hollywood, CA (PRWEB) April 28, 2016
North Hollywood dentist, Dr. Hamid Reza, now offers emergency dental treatments. Getting emergency dental care as soon as possible is essential when it comes to dental accidents or critical dental problems. These issues can threaten a person's dental health and may make the difference between saving and losing a tooth. Toothaches, knocked-out teeth, chipped teeth, and many other issues can lead to emergency situations, and Dr. Reza can quickly evaluate the situation and recommend the most appropriate treatments.
Common emergencies include:

Knocked-out teeth
Chipped or broken teeth
Toothaches
Infections or abscesses
Dental emergencies cannot be treated at home. Patients with dental emergencies should use gauze and apply pressure to stop any bleeding and may take over-the-counter pain medication to relieve pain, but they need to call a qualified dentist such as Dr. Reza as soon as possible to get the care they need.
"At Hamlin Dental Group, we use advanced dental technology to ensure our patients receive the highest quality treatments available. The comfort of our patients is our top priority… we want to make sure your visit to our office is pleasant and comfortable," said the team. Dr. Reza and the team of endodontists, periodontists and orthodontists in North Hollywood work quickly to stabilize a patient's dental health during an emergency and develop a short- and long-term dental plan to ensure the best possible results.
Hamlin Dental Group offers comprehensive dental care that includes not only emergency dental care but also routine dentistry, preventive care, restorative treatments, braces, dental extractions, dental implants, teeth whitening, dental veneers, tooth-colored fillings, and other common dental treatments.
About Dr. Hamid Reza, Expert in Invisalign North Hollywood
Dr. Reza is the founder of Hamlin Dental Group, which includes an elite team of highly qualified dental experts who offer comprehensive dental care, including periodontal treatments, cosmetic dentistry, endodontics, dental surgery, and orthodontics. The multilingual team speaks Arabic, Armenian, Spanish, German, Farsi, and English and can easily converse with patients in the language in which the patients are most comfortable. Dr. Hamid and the team are fully committed to offering their patients the best care possible in a warm, compassionate environment. Dr. Reza is a member of the California Dental Association, the San Fernando Dental Association, and the American Dental Association.