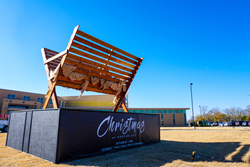 "The manger was a sign, not an accident." - John Cruz, Northplace Church Executive Pastor
DALLAS (PRWEB) December 05, 2018
In 2014, when Northplace church moved into its new location in Sachse, TX, the congregation was energized to make an impact in the local Sachse and Garland communities and beyond. As part of that mission, Northplace Church is inviting all DFW residents to come find and admire the true reason for Christmas.
Northplace Executive Pastor John Cruz said, "A baby in a feeding trough was as scandalous two thousand years ago as it is now, yet it was the first bed for the Son of God. The manger was a sign, not an accident. Jesus was laid exactly where God planned. From infinite deity, to a feeding trough, to a cross. This is who Jesus is. 'This will be a sign to you: You will find a baby wrapped in cloths and lying in a manger.' – Luke 2:12 NIV".
Northplace church will have the manger on display through December 31, 2018 on the front lawn, adjacent to the parking.
ABOUT US:
At Northplace, we exist to introduce people to God through experiencing His son, Jesus Christ. Northplace commits to foster true spiritual growth by creating a culture of community through Northplace Groups. We express compassion by serving our neighbors locally and abroad. Our "glocal" vision is "Forgotten People In Forgotten Places". Northplace Church strategically invests a significant portion of its resources in mission work all around the world with a focus on unreached people groups, children, and church planting. Today we have a growing congregation of several thousand people who travel from every corner of the metroplex to call Northplace Church their home and experience each of these historic and biblical values in their lives.
Contact:
Jason Jackson
469-236-8160
jasonj(at)northplacechurch.com